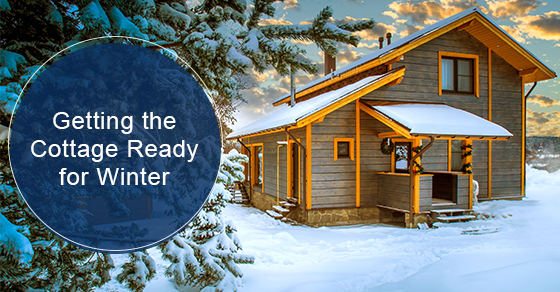 Getting the Cottage Ready for Winter
For many Canadians, winter means the end of cottage season. Fortunately, cottage insurance will keep the place financially secure while you're away. However, what about the physical safety of your home away from home?
Unless you use your cabin as a winter haven for the holidays, closing the place down for the cold season means it will be uninhabited for a long period. To ensure everything is in good working order on your next visit, there are some steps to take to winterize your cabin.
At W.B. White, we work with Canadians across Ontario, providing a variety of insurance options, including cottage insurance. We understand the many risks an unattended cottage faces during the off-season, and have created a guide to help you prepare your cabin for the cold months. Here's what you need to know:
Roof and Gutters
Cottages tend to be located in nature, which means plenty of falling leaves and debris from nearby trees. Before locking down for the winter, be sure to check gutters for potential blockages, which could redirect rain and melting snow into your home. If the gutters are blocked, either clear them yourself or call in an expert.
During gutter inspection is the perfect time to check the roof for warped or missing shingles or other signs of damage. Ensure your roof is patched and protected before the first snow to avoid the risk of a cave-in or leak.
Sump Pump Inspection
If your cottage runs on a sump pump, it should be kept running during the winter. This will keep your cabin from flooding if an unusual amount of snow melts around your property.
A sump pump collects the liquid that comes in through the soil or pipes around your home. It uses a basin system to draw in water until it reaches a designated water line in the basin. The sump pump then drains away from your home, thus keeping water out of your basement, or in the case of a cottage, out of your crawl space.
Plumbing and Electric
Electricity should be stopped to avoid any electrical damage or potential electrical fires that could start in your absence. Halting electricity will also save you on electric bills during the off-season.
Similarly, your pipes should be drained, and water turned off. Winters in Oshawa, for example, get cold, seeing temperatures drop below -20°C on especially cold January evenings. If your pipes freeze while you're away, it could cause damage that results in a leak.
Unplug and Stop the Heat
Turning off the electricity isn't the only step to take to prevent electrical fires. To be extra safe, we recommend unplugging electric appliances as well.
While you go through the cottage to unplug items, check your heat. If you're not comfortable turning the heat all the way off for the winter, we suggest turning it down to around 10°C. Not only does running heat waste fuel and run up your heating bills, it could be a potential fire hazard, especially if anything is left near the vents.
Speak to your cottage insurance provider about stipulations in your policy for heat and electricity. There may be additional steps outlined for your cottage insurance policy to be valid.
Block Pests and Remove Attractants
Leaving your cottage for the winter season means less commotion to frighten off unwanted pests, including insects, squirrels, raccoons, rats, mice, and more. Follow these steps to keep unwanted visitors away:
Inspect your cottage for holes and cracks in the walls and floors.
Block any questionable-looking openings.
Remove all of the garbage in and around the property, which could attract bugs and animals.
Clear out your pantry, cupboards, fridge, and freezer to remove additional attractants.
With no way in, and nothing attracting their attention, your cabin has a lower risk of becoming home to a family of porcupines for hibernation.
Remove Fire Hazards and Clear the Flue
Fireplaces are a major area of concern during a cottage closure. This is true not only for the obvious reason that there could be flammable items in and around the fireplace, but also because the flue opens into the great outdoors.
Chimneys are a big attractor of birds and other small creatures, who view it as a safe place to build a home in the cold. If your flue is open, these animals could make their way down into your cottage. Clean and close the flue, and clear the fireplace of ash and debris to keep this space safe until your return.
Final Inspection and Photos
After you've turned off the power and water, and removed pest attractants, it's time for a thorough inspection. Take time to go through each room and look for anything you may have missed that might pose a risk during the winter months.
After inspection, snap photos of each room, so you know where everything is and what belongings are in your cottage. If something does happen during the winter, these pictures will help you file a claim with your cottage insurance provider.
Call Your Cottage Insurance Provider
Once your cabin is ready for winter, be sure to contact your cottage insurance provider to ensure the property and surrounding structures are protected while the dwelling is left unattended.
Cottage insurance protects your property from financial loss due to a variety of external factors, including:
Theft
Fire
Lightning
Falling debris
Vandalism
Cottage insurance offers year-round protection and can be extended to cover detached structures like your shed, boathouse, and dock as well.
At W.B. White, we take a customizable approach to cottage insurance, curating your policy to fit your individual needs and property type. Our team has vast experience with Canadian cottages and the many perils they encounter in the off-season.
Interested in learning more about cottage insurance and how it can protect your property during the winter season and beyond? We invite you to contact W.B. White Insurance at 1-877-420-4572. You can also use our website to get a free quote on your cottage insurance policy.

Amanda began her insurance career in 2000. As a Chartered Insurance Professional (C.I.P.), Amanda is passionate about continued education for insurance professionals. Amanda teaches the Insurance Broker Licensing program through Durham College, and speaks about insurance related topics at B2B events.
Leave A Comment
The comments are closed.