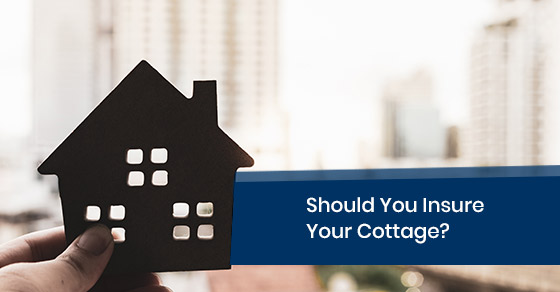 Should You Insure Your Cottage?
If you own a cottage and are wondering if you need cottage insurance, the answer is yes. It is no different than your primary property, and in fact, it is even more vulnerable to potential issues.
For example, a cottage is not usually used as much as your primary home, which means there is a higher risk of break-ins. Or, the location of your cottage might be closer to water, which means it could be at higher risk for floods.
Other issues include less maintenance for a cottage could mean higher risk for damage, while if you rent out your cottage to vacationers, you could also be liable for damages, should they be injured while staying there.
If you are still not convinced, here are several reasons you need to get insurance for your cottage.
You Rent Your Cottage
If you are renting your cottage to vacationers, even if it is just occasionally, you will need comprehensive insurance that covers all potential issues caused by or to your renters.
Rental cottages offer a form of income. Should something happen to your cottage, and you can't rent it due to damage by fire or flood, with the proper insurance, you will not only be covered for repairs and replacement, but also lost income during the time your cottage is being rebuilt.
If you only have a basic insurance policy and someone renting your cottage is injured, having the correct insurance will protect you against damages granted to renters, should they decide to sue.
Liability insurance is a must if you rent your cottage, as renters leave you vulnerable to lawsuits if they fall down the stairs, are injured using your leisure craft, or any other conceivable accident that might occur. Such damages can be costly as you may be responsible for paying their medical bills, lost wages, and even pain and suffering.
Tip: If you do rent your cottage out, make sure you disclose the number of weeks your cottage is rented out to your Broker. Plans and coverage options will vary based on the number of weeks you rent your cottage out.
Your Cottage is in a Remote or High-Risk Location
Many cottages are located either near water or in very remote areas. If your cottage is located in a remote area with limited access, you have limited protection for Municipal services such as the Fire Department. The rate of insurance will be higher in these areas because they're accounting for the fact that the fire department may not be able to reach your cottage in an emergency.
Being in a remote area also increases labour costs for repairs should your cottage be damaged. Difficult to reach cottages require special claims services due to these issues. For water damage, you will want flood insurance if your cottage is located on a lake and is not situated above the water level to protect against flooding.
Your Cottage is Vandalized or Burglarized
In most cases, families tend to spend time at their cottages on weekends. This means your cottage sits empty during the week, making it a higher risk for break-ins. There are a number of things you should keep in mind when it comes to intruders:
Ensuring you are covered for the contents of your cottage will protect you against vandalism and theft.
With the proper coverage, you will have peace of mind knowing should someone break into your cottage you will be covered for damage and theft.
Tip: Having a security system can reduce your premiums.
Outbuildings and Structures Need Insurance
Many cottages have outbuildings, such as bunkies or boathouses. You might also have structures, such as docks, that can be damaged. With a cottage policy, you can also insure these buildings to protect against damage due to flooding, ice, fire, etc.
Are your recreational vehicles and watercraft insured?
Most people have watercraft or recreational vehicles stored at their cottages. It's important to ensure your assets are protected with a separate policy for boats, ATVs, snowmobiles, etc. that are stored on your property. This is because even with cottage insurance, there will be very limited coverage, or no coverage at all, for your leisure vehicles.
Other Considerations for Cottage Insurance
You should also consider:
1. Are all your contents covered?
Some plans include content coverage for the cottage, while other plans allow you to set a limit you are comfortable with. As mentioned, should your cottage be broken into, suffer a fire or flood, you will want to have coverage for your contents. Your best bet is to discuss the content value with your insurance provider. With an up-to-date inventory, you will avoid delays in getting your payout when you file a claim.
2. Limitations of your cottage insurance policy
Make sure you understand any potential limitations for your cottage insurance policy because you are not at your cottage 24/7, leaving the potential for water damage to worsen when left undetected. Water can cause serious issues over time that can lead to mould, rot, and structural damage.
Your insurance policy might not cover these types of issues. Be certain to discuss the "perils" included in your cottage insurance policy, so you know all your bases are covered.
3. Type of coverage
For both your primary and secondary homes, you should always discuss cash value versus replacement costs. Replacement cost should be requested for cottages that are built and occupied like a second home. Replacement cost is coverage is calculated on the building value to be high enough to rebuild or replace your cottage.
There is usually a cap as to how much the insurance company will pay, so always make sure you have enough coverage to bring your cottage back to its original state.
If you complete renovations or upgrades, always discuss this with your insurance provider as this could require further coverage.
4. Maintenance of your cottage
Many cottage owners do not realize that they have a responsibility to upkeep their cottages to qualify for some claims. For example, if you experience water damage due to an old, leaky roof, your insurance provider has the right to reject your claim.
You will more than likely have a clause in your insurance stating that you must maintain your property and visit it an allotted number of times a year to ensure it is not showing signs of damage. This is an important aspect of your insurance policy as if you do have such a clause; your insurance company has the right to deny certain claims.
As you can see, cottage insurance is a must. Your insurance will provide you with the funds needed to repair, restore, and replace your losses should the unthinkable happen to your "home-away-from-home."
For more information about cottage insurance, call WB White Insurance at 877-420-4572 or contact us here.
Leave A Comment
The comments are closed.