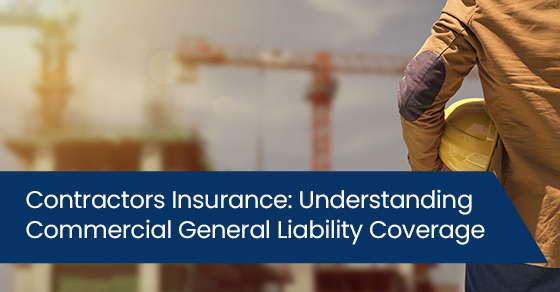 Contractors Insurance: Understanding Commercial General Liability Coverage
Whether independent or part of a larger enterprise, contractors operate in an environment that is ripe with potential risks and unexpected challenges. This factor highlights the importance of having the right insurance policy, specifically commercial general liability insurance, which becomes crucial.
This article will delve into contractor's insurance, specifically commercial general liability coverage, to help you understand its scope and benefits.
Commercial General Liability (CGL) Insurance: A Legal Requirement
In Ontario, anyone operating a business, including contractors, is legally obligated to carry commercial general liability insurance. Whether constructing buildings, installing plumbing, or performing electrical work, having this insurance is a fundamental requirement. In many cases, you'll need to provide a certificate of insurance to secure contracts or jobs.
Commercial general liability insurance protects you and your business against potential legal claims from third parties in cases involving bodily harm or property damage. Let's illustrate this with a hypothetical scenario: Imagine you operate a landscaping company and have been hired to redesign a client's backyard.
During the project, one of your workers inadvertently damaged the client's underground sprinkler system. As a result, the client's lawn gets flooded, causing damage to their property.
Without adequate commercial general liability insurance, you could be personally responsible for covering the repair costs and damages to the client's lawn. However, with the right insurance in place, your policy would protect you and your business, ensuring that the financial burden of repairing the sprinkler system and restoring the client's property doesn't fall squarely on your shoulders.
Certificate of insurance for a specific job: Is it possible?
A common question among contractors is whether they can obtain a certificate of insurance for a specific job. Unfortunately, the answer is usually no. To request a certificate of insurance, you must have a Commercial General Liability policy. These policies typically have a minimum duration of 12 months, and cancelling them before the renewal period often incurs a cancellation fee.
This policy structure discourages contractors from obtaining insurance only when they have a job lined up. There are several reasons why this practice is discouraged. First, constantly cancelling and reinitiating policies is not cost-effective. Secondly, accidents or liability issues can arise between jobs.
For instance, consider an electrician who completes a project, cancels their policy, and, six months later, a fire occurs due to faulty wiring from their previous work. In such a scenario, having proper liability insurance is crucial to protect against potential lawsuits.
Optional Contractors Coverage: Beyond Legal Requirements
While commercial general liability insurance is mandatory, several optional coverage options can enhance your contractors' insurance policy.
Equipment Floater Insurance
Equipment floater insurance covers high-value equipment worth more than $1,000, such as riding lawnmowers, generators, forklifts, or skid steers. It's advisable to discuss itemizing or scheduling expensive equipment on your policy to ensure comprehensive coverage in case of theft or damage.
Installation Floater Coverage
An installation floater policy protects property or materials used for a job site before installation. It can include lumber, fixtures, or appliances. Imagine you're transporting a granite countertop for a kitchen renovation, and it gets damaged during transit.
Having an installation floater on your policy ensures coverage for the replacement cost. Similarly, this coverage protects your company if materials are stolen from a job site overnight.
Tool Floater Insurance
Tool floater insurance provides coverage for tools valued at $1,000 or less. It includes drills, saws, weed whackers, and lawnmowers. Consider a scenario where you have $15,000 worth of tools stored in a trailer, and someone breaks in and steals everything. Without tool floater insurance, you must replace these tools out of your pocket.
Commercial Auto Insurance: Essential for Contractors
If you're a contractor in Ontario, your vehicle likely needs to be insured under a commercial auto insurance policy. Personal auto insurance policies often exclude coverage for business-related activities, leaving you and your vehicle underinsured in case of a claim. While private auto insurance may cover your commute to work, it typically excludes business use activities.
Most contractors regularly rely on their vehicles to transport materials, equipment, and trailers. Additionally, employees may use your vehicles for work-related tasks. A commercial auto insurance policy ensures adequate coverage in an accident caused by an employee while driving one of your vehicles.
Why Contractors in Ontario Need CGL Insurance
Like contractors in many other regions, contractors in Ontario need Commercial General Liability (CGL) insurance for several important reasons, including:
Legal Requirements: In some cases, CGL insurance may be required by law or professional licensing bodies. Contractors in Ontario should be aware of any legal or regulatory requirements related to insurance in their industry.
Protection for your Business: Accidents can happen in the construction industry, regardless of your cautiousness. CGL insurance provides financial security, preventing a single claim from potentially bankrupting your business.
Professionalism and Credibility: CGL Insurance demonstrates professionalism and responsibility to clients, enhancing a contractor's credibility and trustworthiness. Clients are more likely to hire contractors who are adequately insured.
Peace of Mind: Knowing that you have CGL insurance in place can provide peace of mind, allowing you to focus on your work without worrying about potential legal and financial consequences.
Choosing the Right CGL Insurance Policy
When selecting a CGL insurance policy for your contracting business in Ontario, consider the following factors:
Coverage Limits: Ensure that the coverage limits are adequate to protect your business against potential liabilities.
Deductibles: Evaluate deductibles carefully and choose ones that align with your budget and risk tolerance.
Additional Coverages: Some policies offer endorsements or other coverages that may be relevant to your specific contracting activities. Explore these options to tailor your coverage.
Insurance Provider: Work with a reputable insurance provider that understands the unique risks contractors face in Ontario and has a track record of providing excellent service.
Review and Update: Periodically review and update your insurance policy as your business grows or changes. New projects or expanded services may require adjustments to your coverage.
Final Words: Securing Your Business with Contractors Insurance in Ontario
Commercial General Liability insurance is vital to contractors' risk management strategies. It offers protection against a wide range of potential liabilities, ensuring that your business can thrive despite unexpected accidents and legal challenges.
By understanding the components of CGL insurance and choosing the right policy for your contracting business, you can safeguard your financial stability and reputation in the construction industry.
Act Now to Safeguard What Matters Most with Contractors' Insurance in Ontario
With over half a century of experience in the insurance industry, W.B. White Insurance proudly leads the way. Our contractor's insurance services in Ontario rank among the most exceptional, ensuring you access affordable, tailored, and top-tier coverage.
We offer personalized and tailored commercial general liability coverage to meet your requirements. Our approach ensures you only pay for what you need, setting us apart in customization. Plus, you'll have a dedicated Account Manager offering consistent support for all your inquiries.
To secure your customized commercial insurance quote today, you can get in touch with one of our knowledgeable insurance professionals at our Oshawa office (877-420-4572) or our Lindsay office (877-543-7897). Alternatively, you can contact us here to complete our brief online quote request form, and we'll reach out to you promptly.
Leave A Comment
The comments are closed.