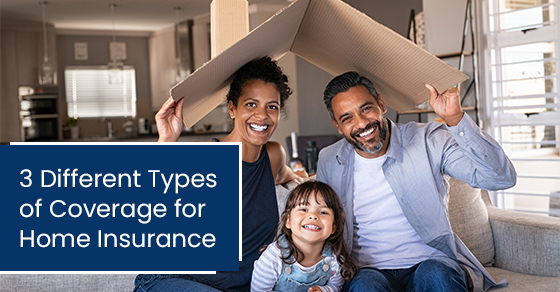 3 Different Types of Coverage for Home Insurance
We all know we need car and life insurance, but what about home and property insurance? Our homes are just as susceptible to damage and loss as anything else. A burst water pipe can flood the basement and cause structural damage. An electrical fault can cause a fire, a freak accident can occur, and a tree can fall onto the garage. 
Break-ins happen, and items are stolen from inside your home. The TV, stereo, and other valuable articles can go missing. These are things that home insurance can cover and replace in the event of a claim. 
There are different levels of cover, depending on your situation at the time. You can always increase or decrease coverage when you need to. 
Before We Begin
As you start looking for home insurance services in Oshawa, one of the first things to look at is what type of property and situation you are in. 
While the three main options are designed to cover property damage and loss, the type of property you own may need something extra or something different altogether.
Condominiums, for example, require "condominium coverage." This coverage protects anything inside your condo but not the building itself. The building owners usually cover this type of coverage. 
Tenants insurance is for people who rent but do not own the property. The property managers or landlord who owns the property will have their own insurance. Renters' or tenants' insurance protects your personal property rather than the actual property. 
Three Types of Coverage for Home Insurance  
1. Comprehensive Coverage
Comprehensive coverage is the most comprehensive catch-all, offering top-tier protection for you, your home, family, and possessions. Aside from some instances, such as your sewer backing up or a natural disaster hits like an earthquake. Every scenario is covered. 
Exclusions like natural disasters will be listed on the policy, so you don't have to second-guess yourself. However, if you live in a high-risk area for flooding, earthquakes or tornados, you can add extra coverage to your policy to cover all scenarios, giving you more peace of mind. 
Comprehensive coverage is the most expensive, but it ensures financial compensation or replacement of like-for-like items, sometimes even upgrades, in the event of a claim. 
2. Broad Coverage
Broad coverage is considered a mid-level cover that looks after and provides more extensive coverage for the exterior of the building, as well as the building itself and any large items within. 
Smaller or more everyday items are still covered, but usually only with a basic cover. Financial claims are capped at smaller amounts than if you had comprehensive coverage. 
There are still exceptions, mainly natural disasters and sewage breaks, which are listed on your policy. The coverage may be limited in some areas. Depending on the property you are insuring, it may cover what you need. 
3. Basic Coverage
This cover would be ideal for people who own a second property, like a home on the lakefront or a cabin in the woods. 
Limited in what it covers, you can only cover certain things you get to state. It provides added protection for when you are not there. Basic coverage means your costs are lower, but your financial risk is higher. 
However, you must take extra steps to ensure that 'preventable events' are dealt with. Regular home maintenance is not covered, especially if you are away for extended periods. 
So, at the end of the season, as you shut down the cabin at the lake, if you don't set the thermostat properly for the winter, and your pipes freeze and burst, this may not be covered. 
It's Always a Great Time to Shop Around
So, comprehensive covers everything, broad covers the big things, and basic is limited. That doesn't mean that every policy will cost you the same. 
There are things that the insurance company will take into consideration when creating your policy. The age of your home, the neighbourhood, and even the distance from your home to a fire hydrant, can all affect the monthly premium and what the policy will cover or what has a limit put on it. 
Then there are bundles you can look at. Home and auto policies bundled together can save you money without affecting the coverage you get. For home insurance services in Oshawa, you can get tailored coverage so that everything you hold important is protected and looked after. 
You could have Personal Liability added to your policy. This extends the coverage so that should there be an accident that you are directly responsible for on your property, which results in bodily harm to another person, or a third person's property is damaged, then you are covered for it. 
While most people will look around for a new policy when their current one is ending, it doesn't hurt to keep an eye out for what other companies offer all the time. That way, when it is time to renew or when you are in a position requiring you to take out home insurance, you know the prices you can expect. 
Home Insurance Services Oshawa: Your Home, Your Insurance
Nothing in this world is more important than your home and family. That's why WB White Insurance takes creating your perfect policy very seriously. For over 90 years, WB White has been working with the community and other professionals to ensure you are protected, and your budget is intact. 
Whether you own a condo, townhouse, or a sweet little cabin in the woods, you can get the cover you need quickly and easily. Even renters can get the insurance they need with WB White. 
Contact our professional team today at 1-877-420-4572 or get a quote online, and we will work with you to get the right cover today.
Leave A Comment
The comments are closed.