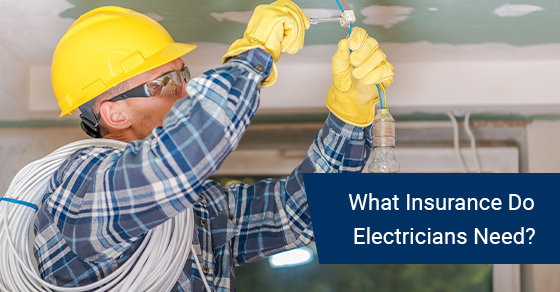 What Insurance Do Electricians Need?
Every day, electricians risk their lives in the course of their work. For this reason, it is critical to understand the importance of electricians' general liability insurance. Anything could go wrong on the job site, so you should protect your workers. Clients may hold you and your company liable for damages if a situation occurs. WB White is your local Oshawa electrical liability insurance company which serves to protect you. We treat each electrical contractor as a priority and make sure to provide our clients and their workers with the best coverage for the best price.
Ontario Electricians: Do they need insurance?
Your company's security is of utmost importance to you as a business owner. An electrical contractor needs the right insurance to ensure they are protected in the event of an emergency. Electrical contractors' insurance protects electricians, their businesses, and their clients. It is important to note that an electrician's insurance policy provides protection both during and after the work project.
Professionals who complete electrical work in a new or existing home, or complete electrical work for commercial, industrial, or agricultural operations are protected by the comprehensive coverage provided by WB White. Any of the following careers should consider having electricians' insurance:
Electricians
Electrical technicians
Lighting technicians
Electrical contractors
Industrial electricians
Electrical repairmen
HVAC technicians
Heating contractors
That said, you should understand the policy may differ slightly depending on the kind of work you do. A general electrical service (which is typically concerned with inspections and replacing worn parts) may have different needs than an electrical installer (who installs, maintains and repairs electrical wiring).
An electrical contractor who employs staff will have different coverage needs than a sole trader. For example, a sole proprietor needs at least $2 million in coverage, while larger companies may need as much as $5 million.
To ensure you have the best coverage for your unique needs, it is important to speak with a dedicated broker from WB White Insurance. One of our team members will make sure you're properly protected in the event of any circumstance or emergency.
What is included in the coverage?
In case of an incident on the job site or on the property after work has been completed, electrical insurance protects your company. Imagine the impact of disaster if you did not have proper insurance. How would you handle an electrical fire at a customer's property, for example? Or, what would you do if your tools were stolen? If you do not have insurance, you will be liable for any damages and/or lawsuits resulting from the incident.
Professional Liability Insurance for Electricians
Errors and omissions insurance is professional liability protection for negligence, misconduct, or failure to deliver a service as advertised. An example would be a professional electrician's advice which results in a fire. Under this circumstance, the client would have grounds to sue. Similarly, the clients would have a case if the services you rendered were not as promised.
Commercial General Liability Insurance for Electricians

CGL insurance protects your business from daily risks that may arise during regular business operations. Including bodily injury to third parties visiting the property or worksite.
The most common cause of third-party bodily injury is falling on a slippery surface or tripping over tools. Apart from property damage, CGL also covers some medical expenses and legal fees, regardless of the outcome of the lawsuit.
Tools and Equipment Coverage for Electricians
As implied by the name this coverage protects your equipment and tools from either damage or loss. Special coverage of this type is available for rental equipment that is in your care.
Excluded from this coverage is protection for wear and tear. Usually, this type of insurance covers tools that are stolen from your home.
It is important to note that tools and equipment may not be covered when they have been taken off the property of the insured. To protect these tools while in transit or on a job site, you need to have some additional coverage. 
Workmans Compensation Insurance
Typically workman's compensation insurance is supplied by the government. This critical insurance protects your employees from workplace injuries. In addition to being very important to cover your liability, it is the law to have such coverage.
Regardless if you operate your electrician business from your home, your regular home insurance will not cover your liability. It is important to understand that home insurance only protects residences, but not buildings that are used for commercial purposes.
What does electrician's insurance cover?
An electrical contractor insurance policy covers the basics which include:
Commercial general liability
Third-party bodily injury
Property damage.
Lawsuit due to negligence
Equipment and tools premise protects from theft
What is the difference between business insurance coverage and general liability insurance?
Business insurance is a general term used by the industry to describe a laundry list of insurance an organization may need. This exhaustive list includes commercial auto insurance, professional liability insurance and many more.
General Liability insurance is just another type of business insurance available. This general liability coverage is important for electrical business owners to have. It protects against legal fees and or medical costs from third-party bodily injury and/or property damage.
Since 1929, W.B. White Insurance has been a trusted insurance and financial adviser to clients throughout Ontario. We have helped business owners safeguard their assets with comprehensive business insurance products.

Contact our friendly Oshawa team and get the contractor's liability insurance quotes you need to make an informed decision that is right for you.

Amanda began her insurance career in 2000. As a Chartered Insurance Professional (C.I.P.), Amanda is passionate about continued education for insurance professionals. Amanda teaches the Insurance Broker Licensing program through Durham College, and speaks about insurance related topics at B2B events.
Leave A Comment
The comments are closed.