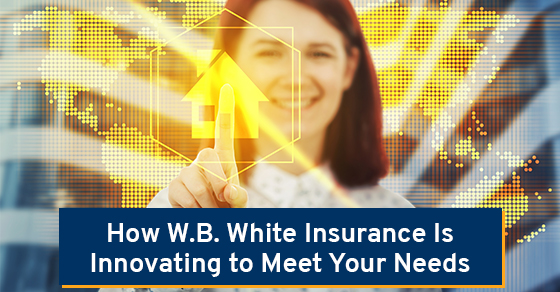 How W.B. White Insurance Is Innovating to Meet Your Needs – A Message from the President
2020 has been a whirlwind of a year. With a global pandemic at the forefront, many businesses, including W.B. White Insurance, have used this time to innovate and discover new ways to ensure our clients' needs are met.
Some of the things we have accomplished during this time include:
The integration of our brokerage operating system for a seamless work from home experience for our staff
Advocating, and accelerating, the introduction of COVID-19 rebates for clients
Launching our online client portal to enhance your experience
Together, apart. We made an Epic decision before the COVID crisis.
Technology is rapidly evolving. 12 months ago we made the decision to partner with the best insurance software in the world, appropriately called Epic. A benefit when choosing Epic was the ability for our staff to eventually work remotely; A goal we were working towards for 2021. But suddenly, in March, the world was asked to stay home. Overnight our physical office closed and our team was transitioned to work from home. During those initial weeks, our technology specialists and Management team worked day and night to ensure that our clients could still reach their broker for service. The Epic program was the right decision, and it was initiated just in time. Our service to you is "Essential". Today, our team is successfully working both from their home and at the office. We are prepared and remain ready to serve you during these uncertain times.
Advocating for rebates during the COVID closures
Many consumers do not realize how heavily our government regulates the Ontario Auto Insurance Policy. Normally, insurers looking to make a change to their pricing program, such as a new discount, will require 6-12 months of planning for government approval. When the Ontario Government, and Brokers, called upon insurers to help consumers with cost relief, our insurance partners rose to the challenge. COVID rebate plans and options were introduced to consumers in as little as 4 weeks.
Yes, it wasn't always executed perfectly. Every carrier we represent had a slightly different philosophy and approach. There was also some confusing "rebate" paperwork and billing statements that followed. Those were unprecedented times for the staff working at the insurance companies as well. We were all adjusting to the new rebates and guidelines at a rapid pace. Overall, we are proud to be working with insurance companies that listened to us. Because we were always echoing the voice of you, our client.
Our Client Portal is here!
Before your next renewal, your Broker will be contacting you about our new "My WB White" client service portal. Our new online services do not replace the answers and advice of a real Broker. The team at WB White is always going to be there for you. Whether over the phone, by email, or in-person (adhering to strict social distancing protocols for everyone's safety), our team is here for you. For more information on how to register for your personalized portal access, click on this link.
Working with W.B. White Insurance
W.B White Insurance strives to meet the needs of you, our client, and we continuously look for ways to improve your experience with us, especially during these precarious times.
To our valued clients, I wish to say thank you.  WB White has been family owned, and operating in Durham Region, for over 90 years.  The "shop local" movement has never been more important.  We remain committed to supporting local businesses, local charities, and community focused partnerships.
Although we have transitioned to working remotely during COVID-19, we continue to operate as normal, serving your insurance needs.
To learn more about the changes we have implemented, contact W.B White Insurance at 1-877-420-4572 or contact us here.

Jason's career in insurance began long before his official start in 2003. Jason is the fourth generation to own and operate W.B. White Insurance. As Leader with Insurance Brokers Association of Ontario, Jason has been a guest speaker and advisor to many events, including as a guest to speak with MPP's at Queens Park regarding insurance industry topics.
Leave A Comment
The comments are closed.