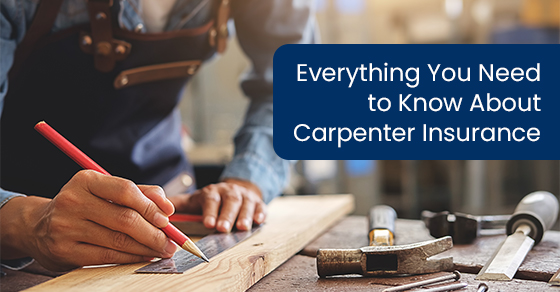 Everything You Need to Know About Carpenter Insurance
You have always dreamed of working with wood, creating exquisite things, building homes, and more. So, you spend five years becoming a master carpenter, learning everything you can, and then you venture out to set up your own company.
Everything is in place: your tools, a work vehicle, contacts, bank accounts, and even your first job. The world is your oyster, and things couldn't be better.
Then, something happens. Your tools get stolen, or your van is broken into. What if something happened on the job site itself? Was someone injured? It's just as unfortunate when you realize that you don't have the right insurance.
There are a lot of things we do when setting up our own business, and making sure we have the right insurance should be one of those items that are first on the list.
Protecting yourself, your employees, your vehicle, and the people you are working alongside is something you should consider seriously. What happens if your work vehicle is broken into, someone slanders your company name, or you or an employee has an accident on the work site?
Carpenter insurance is designed and built around your needs. However, it differs from personal insurance, personal car insurance, or even life insurance.
Who needs carpenter insurance?
Carpenter insurance, or contractor liability insurance, covers you in the event of an accident in the workplace or vehicle damage and helps to cover third parties involved in the incident. It also ensures protection and coverage for you and your employees in the event of a customer dispute.
It pays out for medical expenses, loss of earnings, and more. Often, these are all things that a new business cannot necessarily afford at the start.
Essentially, anyone in the construction industry will require insurance, and carpenter insurance will provide you with what you need. While it may seem costly, certainly in the beginning, it works to save you money in the event of a claim.
How much coverage do you need?
The contractor industry in Toronto and surrounding areas is growing day by day, with over 500,000 people employed today in one form or another with labour and construction positions.
This means that there are increasingly more risks that employees are exposed to, and thus more reasons to get the right coverage for yourself, your employees, and your clients and other contractors you may be working with.
The size of your business will determine how much coverage you should consider getting. The type of work you will be undertaking will also play a factor in what coverage you need. For larger projects, getting insurance that protects other contractors or property owners may be beneficial.
Whether you are a lone worker or have multiple employees working with you, general liability insurance is the base coverage you will need. This covers you in the event of any lawsuit that may arise. A policy that covers up to $2 million dollars is the standard for this type of insurance. It is not recommended to go for anything lower.
After getting general liability insurance, you can then have additional layers of coverage, all of which are designed to cover different things that could happen. Again, a smaller business may choose less, but you can always add more as you grow.
What are your options?
There are several different types of additional coverage you can take out. Reach out to your insurance team to discuss which options are recommended for you, based on your company size and the kind of work you are undertaking. The following are some various types of extra coverage:
Workers' Compensation. This insurance is designed to protect your workers in the event of a workplace accident. It helps to cover their medical expenses and can even potentially cover a portion of lost wages for a short time.
Vehicle Insurance. Different from your personal vehicle insurance, this covers theft and vandalism and even assists in claims where your vehicle was at fault and other parties are injured.
Builders Risk Insurance. This provides financial protection to cover any expenses for property owners, subcontractors, and even general contractors.
Carpenter Disability. This is different from workers' compensation, as it provides a monthly payment to cover your bills and other expenses in the event that you are unable to work for a short time.
Bonded Insurance. If you wish to bid for an exclusive project, you may be asked to provide a security bond in addition to insurance before you will be considered.
Every business is different, and, therefore, your needs will be different, too.
With all the options available, talk to your insurance team about what is an appropriate amount of coverage that not only provides adequate protection, but also fits into your budget. A smaller business has smaller budgets in the beginning, so you don't want to reduce your profits by paying for more than you need.
W.B. White Insurance: For All Your Insurance Needs
Contractor insurance is essential, but you want to make sure that you only get what you require. This may include, for example, liability insurance, vehicle insurance, business interruption insurance, or workers' compensation.
Regardless, your business needs coverage—that much you know. You have spent years training yourself and building up your company, so the last thing you want is for something to happen from which you cannot recover.
However, your coverage doesn't have to break the bank before you start earning and making a profit. You can add insurance as your business grows, or remove coverage should you have to downsize and lay off employees.
At W.B. White Insurance, our team of professionals is expertly trained to recognize and identify exactly what you need. We will guide you through all the intricacies and explain all the technical terms so that you fully understand what coverage you are getting.
For more information, reach out and get a quote online here, or call our team at 1-877-420-4572 and let us help you get insured today.

Amanda began her insurance career in 2000. As a Chartered Insurance Professional (C.I.P.), Amanda is passionate about continued education for insurance professionals. Amanda teaches the Insurance Broker Licensing program through Durham College, and speaks about insurance related topics at B2B events.
Leave A Comment
The comments are closed.