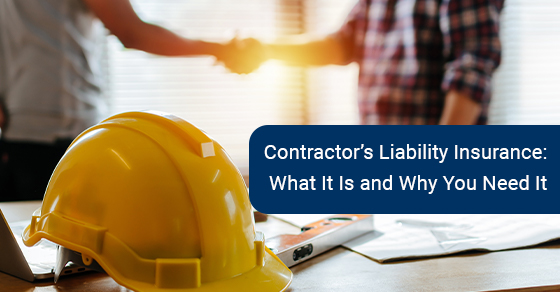 Contractor's Liability Insurance: What It Is and Why You Need It
As a contractor—independent or otherwise—you're often held to a higher standard when completing your contracted work.
This type of environment typically comes with increased potential for unexpected risks, leaving your business vulnerable to legal issues between you and your clients.
In order to protect against any unforeseen financial damages or litigation costs, you need to have an effective insurance policy in place.
Understanding the scope and benefits of contractor's liability insurance ensures you'll have the protection needed to successfully fulfill all upcoming projects.
What is contractor's liability insurance?
Contractor's liability insurance acts as an umbrella term to describe the different kinds of coverage businesses can opt into. Depending on the kind of work you or your employees complete, there are specific types of coverage to consider.
These different options help cover the legal expenses, damages, or settlements that fall under the specific conditions of your chosen policy.
It's important to keep in mind that litigation costs can escalate at a rapid rate, making this coverage essential for any and all contractors, large or small.
Who should get contractor's liability insurance?
When everything is going according to plan, it's easy to become content. That said, there's still a chance that something could happen regardless of how long your business has gone without incident.
Each time you work with a client (new or established), your business takes on a certain amount of risk.
Whether you're a large company with multiple contractors or an independent entrepreneur, you should have contractor's liability insurance.
Covering a wide range of potential risks that could impact your business, contractor's liability insurance can help protect against unforeseen financial disasters, both major and minor.
The Uses of contractor's liability Insurance
Some instances where contractor's liability insurance can be useful include the following:
Negligence or errors: If you were to make a mistake while performing your contractual duties, it's possible a client could sue you. This can range from minor details that delay a project to major issues that result in significant financial damages.
Misrepresentation: In some instances, a client may feel that your service is inaccurate or misleading, resulting in them suing you for providing faulty information.
Loss of documentation: Losing documents that belong to your client may mean only a minor headache for you or a possible day in court.
Commercial general liability: In the event that your client's property is damaged while you complete the contracted work, this type of policy offers protection. Coverage can include "slip and fall" injuries, property damage, medical expenses and legal costs.
Tools and equipment: Provides reimbursement if your tools are stolen or damaged during a workplace accident.
Why do you need contractor's liability insurance?
1. You could get sued
In the event that something goes wrong and a client decides to sue, contractor's liability insurance is designed to protect you and your business. It's important to understand that this protection does not extend to your company if the complaint comes from an employee.
Instead, this type of insurance ensures you're covered when a client (or another non-employee) attempts to file a suit against you.

While your specific insurance policy may vary, there are some specific events that commercial general liability insurance will help cover.
2. Workplace injuries
We hear it time and time again: accidents happen. Even when you take all the right precautions, you never know when someone might get hurt on the job. Worker's compensation insurance is designed to protect your workers from workplace injuries.

If an employee gets hurt on the job, then your insurance will cover it if this is included in your policy. General insurance for contractors will then protect against other bodily injuries that may have occurred.
Having contractor's liability insurance will also ensure that you won't have to pay out if the client chooses to sue you for medical costs as a result of workplace injury.
3. Property damage
While workplace injuries should be a major concern for you and your business, keeping the client's property in mind is also incredibly important.

Whenever you enter someone's property (personal or professional) as a contractor, you must always be aware of the level of risk and understand there's a chance problems may occur.
It's possible that you or one of your workers could accidentally damage the client's property through misuse of tools, equipment malfunctions, unexpected issues, etc.
Without contractor's liability insurance, you would be required to pay out of pocket to cover the repairs.
4. Product liability
In some cases, you or your company may sell a product to the client. Depending on the type of product you manufacture, there's a possibility that it could eventually be viewed as a hazard or loss to the buyer.
In some cases, the material may become damaged or defective when the client uses it. In addition, the client may incur an unintentional injury as a result of the product that they later hold you accountable for.
While you can't account for every possible outcome (good or bad), having contractor's liability insurance ensures you are protected no matter what. If you sell products directly to your clients, you owe it both to yourself and your workers to obtain an effective policy.
5. Legal necessity
Aside from the obvious protection benefits against the unexpected, having contractor's liability insurance is required to work in some provinces across Canada. In these cases, all contractors, regardless of size, must acquire and maintain contractor's liability insurance if they intend to continue working.
These requirements often go as far as to make it illegal for you to serve any clients without the appropriate policies and the correct coverage.
To avoid potential legal issues and guarantee that you can still work without interruptions, you will want to ensure the right contractor's liability insurance is obtained.
6. Customer expectations
Nowadays, clients expect the contractors they hire to have valid contractor's liability insurance. The same way you want to ensure your business is protected in case of an unexpected incident, clients want to know that they are dealing with a professional and their investment is insured.
Without a proper insurance policy, you risk losing current and future jobs, not to mention tarnishing your reputation with clients.
How to Get Covered
To learn how you can obtain the best contractor's liability insurance for your company, call our experts at W.B. White Insurance at 905-576-6400 or contact us online.
Leave A Comment
The comments are closed.