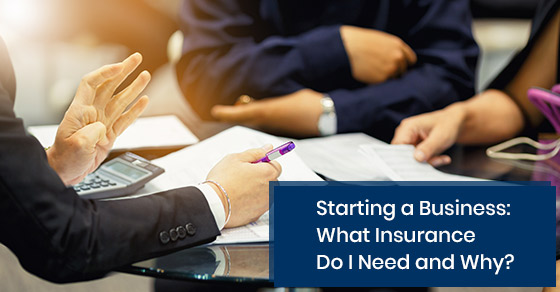 Starting a Business: What Insurance Do I Need and Why?
During the pandemic, many people lost their jobs or experienced reduced hours, pushing more people to start their own business.
Consumers who decide to hire a new business for their services should always do their due diligence to ensure they are hiring a trustworthy company.
In both scenarios, business insurance becomes essential.
Regardless of what type of business you start, you should consider your business insurance needs. It offers an opportunity to stand out from the competition while also providing you financial backing to cover a long list of risks. Here we review what insurance is available for new business owners and why talking to your insurance broker is a good idea.
Provide Proof of Insurance for Customers
In the current crisis, finding affordable services for hire can find consumers on sites like Kijiji and Facebook marketplace. If this is a spot you've chosen to advertise your new services, having proper insurance can add a sense of legitimacy to your business. Today most people look for services they can trust, and advertising that you are completely insured increases your trustworthiness. After all, there are so many unexpected issues that can arise for all types of businesses.
For example, one entrepreneur decided to offer a transportation and delivery service. One of their first customers found them on social media. The customer had purchased a boat online and needed it to be picked up in Quebec and delivered to Ontario. This is where the issues began.
The customer planned to get insurance for the boat once it reached their home. Meanwhile, the original boat owner had cancelled their insurance once the boat was towed from their marina. The ultimate complication was that the entrepreneur offering the transportation service had failed to inform his insurance company he was now using his vehicle for business purposes. In the true fashion of Murphy's Law, the entrepreneur was in an accident, and the boat was damaged.
Due to the gap in insurance coverage, the entrepreneur was held responsible for all damages. Had he spoken to his insurance broker before deciding to use his vehicle to tow the boat, he could have understood what insurance was required to protect him. By simply having the necessary coverage for his new business, his insurance company would have handled the issue. This is why it's imperative that you have the appropriate insurance for your new business and provide this proof of insurance to your customers.
Due Diligence for New Customers
Because many savvy consumers are aware of the risks associated with using sole proprietors to perform certain services, they must do their due diligence to shop for a company that has proper insurance. Savvy customers will always ask for proof of insurance to ensure that the services they hired or the company/person performing the service are, in fact, covered by the appropriate insurance. This can save the customer a whole lot of woes.
On the other hand, a business owner who understands their own services and what insurance coverage they require, can perform those services without breaking a sweat. They'll know they are covered for all eventualities. Having the right liability protection protects both you and your customers.
What to Ask Your Insurance Broker
As you can see, business insurance is always a good idea. If you've decided to start a business on the side, it is recommended that you discuss it with your insurance broker as soon as possible to find out what kind of insurance your startup or home business needs. Set up a meeting with your insurance broker and ask the following questions:
Business contents are covered for an extremely limited amount under home policies. Therefore you should also ask what additional insurance you need to operate a home business. For example, we would advise getting additional liability protection under your home insurance to protect you against things like customers visiting your home or business-related deliveries.
Home and startup business insurance can protect your new business in the event of losses, legal fees, liability and everything you need to run your business.
What is the recommended business insurance I need to cover my personal vehicle usage?
It will depend on what you are using your vehicle for. For example, rideshare drivers with services such as Uber, delivery drivers, service vehicles, and more, must notify their insurance company to the change in use of the vehicle. It also depends on if the business will impact the average annual use of the vehicle. We can screen to determine if a commercial auto policy is required for your business.
Having the appropriate auto fleet insurance will give you peace of mind in the event of an accident, vehicle damage or business interruption.
Is there anything else I should consider for my business?
Again it depends on what type of business you own. We will discuss what type of commercial insurance is best for you based on how and where you operate, the services you offer, whether or not you require additional equipment, if you have an inventory, if you have materials required to perform your service, etc.
Next Steps
If you've found an opportunity to start your own business during the pandemic, you should take every step to ensure you succeed. A good first step is to talk to your broker to discuss your insurance needs.
WB White Insurance has a highly experienced team in both personal and commercial services. We are here to review your changing needs and make sure you have the right coverage with the best possible solutions for your situation. Reach out to our team of insurance brokers in Oshawa today at 1-877-420-4572 or contact us here.

Amanda began her insurance career in 2000. As a Chartered Insurance Professional (C.I.P.), Amanda is passionate about continued education for insurance professionals. Amanda teaches the Insurance Broker Licensing program through Durham College, and speaks about insurance related topics at B2B events.
Leave A Comment
The comments are closed.