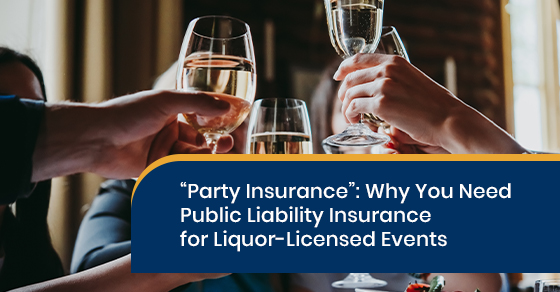 "Party Insurance": Why You Need Public Liability Insurance for Liquor-Licensed Events
For the life of the party, any shindig or celebration starts with securing the logistics, including the license to party. In Ontario, the Special Occasion Permit (SOP) is typically secured by event organizers to allow them to host some of the most memorable occasions for a company, corporate group, and even the entire city. Most importantly, an SOP enables organizers to serve guests alcohol, which vendors like LCBO and venue rentals will require before the event.
When an SOP is in place, it's often accompanied by party liability insurance or public liability insurance for events. Since these SOP-designated events often involve serving liquor to large crowds, it's essential to secure public safety, starting with the right insurance coverage to protect organizers from social host liability, as it's inevitable that some guests will be over-served when the party is in full swing. While provincial regulations don't necessarily require public liability insurance to go with an SOP, vendors like LCBO and venue management may require this added coverage to ensure protection from potential liabilities that arise from alcohol consumption.
Planning an event? Whether it's a cocktail party, corporate banquet, or wedding reception, you'll need to plan for a good—and safe—time, starting with obtaining a liquor license and the added protection of public liability insurance. Get the license to party here:
Venue Requirements
Whether it's a private function or a public event, it's crucial to have adequate protection from potential liabilities. While you may work closely with the bar service to make sure that guests aren't over-served, there will always be one or two who can get past these checks, and worse, insist on driving home or finding their way out on their own. If any of these guests get into an accident, you may be at least partly liable due to recent social host statutes in Ontario. In these cases, the authorities will work their way through the network of vendors and determine their liability as well.
Many venues now require public liability insurance for events, to protect themselves from these disastrous scenarios before you can even book yours. Even if it's a private function that will be held on your property, you will still want the added protection that comes from this coverage.
How much liability coverage do you need?
The most significant step in acquiring public liability insurance for any event is determining the amount of coverage you need, allowing guests to party and have a good time safely and securely. Naturally, bigger events with large crowds require more liability coverage, while small private functions can be adequately covered by a small- to mid-sized plan tailored for more intimate gatherings. Depending on the exact policy, public liability insurance limits can go as high as millions of dollars. As the host, your goal is to secure the right amount of coverage according to the size of your event, without going over budget with a plan that's much larger than you need.
Public Liability Insurance for Private Functions
It's common to think that the risk of accidents caused by over-serving is higher in public events expected to draw large crowds. After all, just as there is strength and safety in numbers, there is also a higher probability of people drinking more than they should, and without designated drivers on board, higher chances of injuring themselves or other people.
With smaller, intimate gatherings like weddings, birthdays, and anniversary celebrations, guests often know each other as they come together to celebrate milestones of family and friends. It may be easier to watch out for each other in these personal settings, but even then, you wouldn't want to see someone you know and love injure themselves on your property or at the venue you're renting out after their fifth glass of champagne, much less on the road as they try to make their way home.
The last thing you want is an injury, accident, or worse, a personal injury lawsuit ruining an otherwise happy occasion and the lasting memories you're about to make. Because the fact is, as the host, you may still be liable for any damages they suffer or end up causing innocent bystanders outside, so it's important to have the right insurance coverage in place.
What's a public liability insurance deductible?
Just like standard insurance policies, the deductible amount in a public liability insurance policy is the cost of damages that you will need to shoulder. Depending on the terms of your policy and the extent of the coverage, there may be certain damages, losses, or legal issues arising from the event that may not be sufficiently covered by insurance. But don't fret; the point of obtaining insurance coverage in the first place is to protect yourself from potential damages, or at the very least minimize them. At the end of the day, having an insurance policy—despite the possibility of shouldering deductible amounts—still provides generous savings, as opposed to shouldering the damages on your own.
Calculating the Public Liability Insurance Premium
As in any insurance policy, the premium represents the amount that you can be covered for in the event of accidents or property damage arising from the event. The premium amount varies depending on the event itself, which is often largely informed by the size and number of guests, the presence of minors, and the amount of liability coverage that you will need. The goal is to tailor a public liability insurance policy according to the type of event and its size, ensuring enough coverage based on existing risk factors, such as bar service, guests' access to alcohol, and their activities on the premises until departure.
For more information about public liability insurance for both public events and private functions, call W.B. White Insurance at 877-420-4572 or contact us here. Get the right coverage to protect lasting memories, starting with the license to have a good and safe time.

Amanda began her insurance career in 2000. As a Chartered Insurance Professional (C.I.P.), Amanda is passionate about continued education for insurance professionals. Amanda teaches the Insurance Broker Licensing program through Durham College, and speaks about insurance related topics at B2B events.
Leave A Comment
The comments are closed.