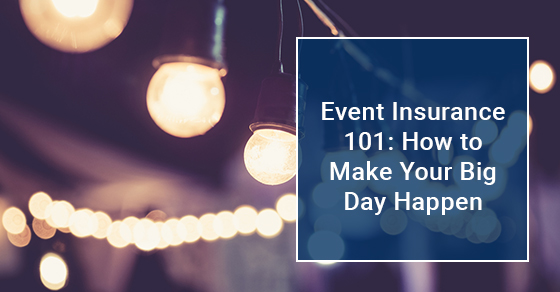 Event Insurance 101: How to Make Your Big Day Happen
Life's biggest milestones are far and few in between, and there's only one way to celebrate them—without a hitch. The summer months are specially packed with anniversaries, birthdays, weddings, local fairs, concerts, trade shows, and other occasions, thanks to the warm sunshine and naturally festive glow of the season. But summer events aren't without their own risk.
The reality is that any number of disasters can easily transform some of the best days of your life into especially memorable ones—and not in a good way. While the sunshine and warm breeze make outdoor events enticing, June brides won't appreciate being soaked in occasional showers, just as the trek from the barn-turned-event-hall can be long, laborious, and perilous for guests making their way down from nearby cottages or cabins. Whatever the case, it's good to have a contingency plan in place, so you can celebrate every minute of a milestone without worry.
Obviously, you can't plan for everything, and adjustments might be in order so the big day can go off without a hitch. Luckily, there's event insurance to help you navigate last-minute venue changes, as well as nightmares like cancellations or postponements. Here's why you need it to pull off the event of the season:
What is event insurance?
Everyone's definitely heard of common insurance policies, like life, health, auto, and home insurance, but did you know that you can protect some of the biggest days of your life, too? Event insurance is a type of policy that protects you from a myriad of scenarios that can easily derail the party, conference, or wedding that you've been planning for months. Severe weather, caterer problems, and venue damage are just some of the worst things right before the big day. And while some vendors might be kind enough to honour existing deposits, you can't trust everyone to do the same.
A special event insurance policy allows you to protect your deposits from cancellations or postponements, so you won't have to cough up the additional expense when your event is finally held on a later date. Plus, it helps you look after guests, especially when there is alcohol at the party, or the terrain at your outdoor venue is less than friendly.
Common Last-Minute Disasters Covered Under Event Insurance
Your big day is finally here and whether that's walking down the aisle, launching the latest innovation in your field, or hosting a one-of-a-kind community fair that locals and tourists alike will love, there's nothing quite like making it to the big day after months of hard work and detailed preparations. Unfortunately, no amount of planning can keep unexpected bad weather, medical emergencies, and last-minute scheduling mishaps at bay. And while it's definitely unfair, there is one thing you can control—keeping deposits and vendor arrangements locked in with event insurance.
Let's consider these worst-case scenarios as an exercise in preparedness:
You're serving alcohol at a function and one of your guests ends up being over-served. While it's common to think that people of legal drinking age should be responsible for their alcohol intake, venues and event hosts can also be partly liable if guests end up harming themselves or others. In Ontario specifically, social host liability means that as the host, you are responsible for the safety of your guests, so it's important to request alcohol liability.
Thunderstorms and heavy rains hit as Canada moves through the motions of tropical-like weather in the summer. The cool breeze feels good after the sticky, chafing heat, but not for your outdoor setup. And certainly not for guests who are coming from out of town, but that's if the flooding subsides enough to allow safe travel.
Your destination event is all set, but airport fever reaches its peak, resulting in massive delays and cancellations. You can't simply extend your reservations, but you know it's not a party until everyone gets there.
The fairy tale ends—but not happily—as the bride or groom backs out. It's the classic left-at-the-altar cliche, but even the most seasoned wedding planners feel the heartbreak, made worse by the nightmare of redirecting prepaid vendor agreements.
Any of the vendors back out at the last minute, leaving guests from out of town stranded without accommodations, or the entire party ends up starving. Catering, music and entertainment, accommodations, and venue are the logistical backbone of any successful event, and it only takes one cancellation to derail the festivities.
These are just some of the biggest nightmares that can sour any happy occasion and put a damper on the most anticipated celebrations of the season. It's common to think of summer as a good season, especially when compared to the freezing temperatures and extreme weather in the winter. But even this season comes with its unique set of possible mishaps. Event insurance helps you navigate all these complicated scenarios, so you won't just settle for what's available—and still affordable—once the skies clear and airlines get a handle on overbooked flights.
Find the Right Event Insurance
When you plan everything down to the last detail, you'll want custom-tailored protection for your special event. Event insurance needs to be tailored to your big day, and it's the details of every policy that make all the difference. For example, if you have an outdoor venue booked, make sure that your event insurance covers exactly that. With the right event insurance policy, you can keep deposits locked down and prepaid vendor agreements flexible to your liking, so you can avail of their services when the event finally pushes through. So go ahead—keep your guest list intact and informed with new save-the-date cards because you can throw the same party twice; no one will even remember that you had to cancel once.
It's All About Peace of Mind
The fact remains: no matter how much planning you do, there's no substitute for peace of mind knowing you can pull off the event you want, and give guests memories to last a lifetime. Event insurance makes that possible, so you won't ever have to worry about the perfect storm happening, especially when everything that can go wrong does, indeed, end up going wrong. Event insurance allows you to keep vendors in check and agreements locked in, providing unparalleled relief knowing that a strong contingency plan is in place. So kick back, relax, enjoy the view, and make lasting memories on your big day. You've done your best, and it's time to let your event insurance do the rest of the work for you.
To learn more about event insurance for big days planned this summer, call WB White at 877-420-4572 or contact us here.
Leave A Comment
The comments are closed.