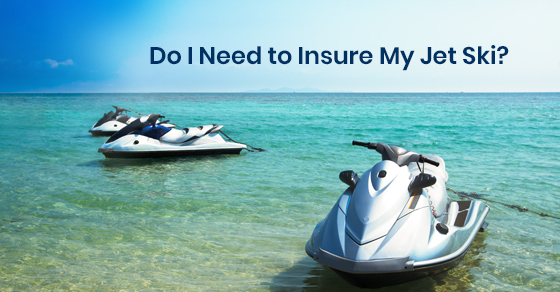 Do I Need to Insure My Jet Ski?
During summertime, many people head to the waterways in search of fun, assuming that their homeowner policy will protect them when using any type of watercraft. When it comes to insurance on a Jet Ski, that is simply not the case. A specialized insurance plan is needed to protect the Jet Ski owner is needed.
Preparation is important for staying safe on the water, and this includes using safety gear and protecting your watercraft with WaveRunner, Sea-Doo, or Jet Ski insurance. Considering that a jet ski is an inboard watercraft which could be purchased, borrowed, or rented, is important to know that there is typically between very limited or no coverage at all under a home policy depending on the circumstances. That is why additional personal watercraft insurance that may be needed.
What is jet ski insurance?
Also known as personal watercraft insurance, jet ski insurance is a type of marine or boat insurance that provides cover in the event that your jet ski is stolen, damaged, or destroyed, and even protects you against liability claims in the event that your watercraft causes injury to other people or destroys their property. The extent of coverage depends on the level of insurance that you take out.
The actual level of cover that you can buy varies depending on the insurance company, though there are two common types of watercraft insurance:
1. Liability only
This policy covers injury to third parties or damage to their property caused by your personal watercraft
2. Comprehensive
This policy covers injury to third parties or their property due to your watercraft. It also covers damage to your jet ski in the event of theft, fire, accidents, and in some cases, even natural disasters.
Depending on the details of your policy, PWC insurance may cover:
Accidental damage to your watercraft caused by fire, flood, storm, vandalism, or another incident
Accidental damage to your jet ski in the event of a collision with uninsured watercraft or uninsured boater
Injury sustained in an accident caused by an uninsured boater
Injury to you or a passenger sustained in an accident with an insured watercraft, including medical payments
Property damage you're responsible for to another party's dock, craft, or other items
Bodily injury or death where you're found to be accountable
Accessory insurance for personal items and supplies on board
Some insurers also provide specialized coverage, allowing you to add optional extras to your watercraft insurance policy, like:
Jet ski trailer cover
Watersport liability for a water skier or wakeboarder that you're towing
Total loss replacement in the event that it is damaged on newer models
Personal property coverage for any personal items stored in the watercraft
Emergency towing or wreck removal
PWV trailer coverage
24/7 assistance for jet ski trailer
Environmental damage repair following a collision or accident
You should be able to customize your policy by adding extra endorsements or increasing the amount of coverage. For instance, you may choose increased liability coverage to safeguard your assets if you get involved in an accident with your jet ski that leads to a lawsuit.
Please keep in mind that any additional optional extras on your policy will likely result in an increase in your premium. Most insurers don't typically offer the same range of optional extras, so it is important to work with a Broker with access to more than one plan.
Exclusions to Personal Watercraft Insurance
In the event that your jet ski causes third party injury or damage to another's property while it's loaded and being towed on a trailer, it will not be included in your jet ski insurance because the trailer is being towed by a vehicle. That said, some insurers may cover the damage caused to your jet ski in such an event, but it's mostly an issue that should be handled by your auto insurance if you have sufficient comprehensive auto insurance cover.
Also, note that jet ski insurance is usually limited to specific allowable geographic areas. You should find out from your insurer about the areas where you won't be protected if you ride your jet ski, or where there are certain restrictions to how you can operate your watercraft. For example, travelling with your Jet Ski for use in the United States or using it for races.
Another factor to consider is whether your insurer required you to store your jet ski securely, such as in a shed or locked garage, to provide cover for theft.
Lastly, if you purchase your personal watercraft using a personal loan or another financing tool, your lender will likely require you to purchase comprehensive jet ski insurance.
Is jet ski insurance mandatory?
If you only use your watercraft for personal leisure, then jet ski insurance is optional in most of Canada. That said, you should consider getting at least the minimum insurance, liability insurance, to cover your legal responsibility in the unfortunate event that your jet ski caused third party injury or property damage. In addition, many regions require personal watercraft users to have a valid boat license or marine drivers licence and be over the minimum age to operate one.
You may be permitted to operate your jet ski in some areas without a license, provided you're supervised by a licensed individual, who must be on board and able to take control over the watercraft at all times.
If you want to tow a water-skier behind your jet ski, then the driver must be licensed, in addition to having an appropriate observer on board the jet ski to constantly watch out for the skier's safety.
All jet ski drivers and passengers must wear a life jacket. Other safety gear may be required, depending on whether you're riding your watercraft in smooth waters such as dams or lakes, partially smooth waters such as creeks and rivers, or beyond partially smooth waters out at sea.
Cost of Personal Watercraft Insurance
Jet skis account for about 10 percent of the watercraft population, yet they contribute to nearly 55% of watercraft injuries. It's important to get additional jet ski insurance cover to ensure you and your loved ones are fully protected.
The cost of jet ski insurance will depend on your insurance provider, the market value of your watercraft, and the type of coverage chosen, either basic or comprehensive. Other risk factors may also be considered, including the year, make, and model of jet ski; engine type, horsepower, and top speed; any modifications to your personal watercraft; whether it's used for personal, commercial, or racing; storage conditions; presence of GPS and other security features; your driving record; type of water; and whether you have completed any boat safety courses.
To learn more about personal watercraft and jet ski insurance, call WB White at 877-420-4572 or contact us here.

Derek began his insurance career in 2006. He is actively involved in various Not For Profit community programs in Durham Region. Derek's hands on experience has made him an expert advisor in Director and Officers Liability and Professional Liability. Derek is also a contributor to Imagine Canada's Insurance and Non-Profit Resource Centre.
Leave A Comment
The comments are closed.