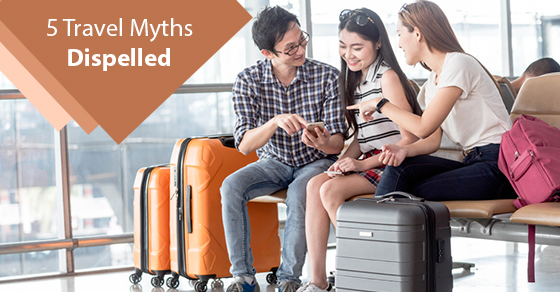 5 Travel Myths Dispelled
As the spring and summer months roll around vacation-goers start to prepare for their holiday excursions, counting down the days until it's time to leave. Regardless of where or when you're travelling, it's a good idea to think about getting travel insurance. However, there are some myths about travel insurance out there that are widely accepted.
Before you make up your mind about insurance for your travels, you should be aware of some of these myths, and the truth behind them. Here are some common myths about travel insurance that are worth looking into.
It's Too Expensive
People think that insurance policies for travellers are expensive and not worth the price. While this can be true in some cases, most policies are not that expensive. In fact, many policies are made to focus on your budget and needs when it comes to protection. This means that you can get something you can afford and will benefit you in the long-run. It does take some careful planning, however, and most people seem to forget this part of choosing a policy. Fortunately, there are a variety of policies that will fit within your budget and offer you the protection you need while on your journey. Not only can it be affordable but it can also give you peace of mind while you travel, no matter where your holiday trip may lead you.
It's the Same as Personal Accident Insurance
Some people believe that since they have personal accident or medical insurance that they are completely covered, should they get hurt on their travels. In some cases, this may be true, but most of the time policies don't extend the coverage to travel unless it's added on to the policy.
The interesting thing about traveller's insurance is the ability to protect you in the case of travel related issues, which can include medical treatment in the case of an emergency. This can also include things like stolen items, flight cancellations, or missing luggage. In some cases, the insurance policy can also cover a travel deposit loss due to other circumstances. Travel insurance may look similar on the surface, but in reality, it has its benefits that certainly outweigh the benefits provided by medical or personal accident policies alone.
My Medical Insurance is Plenty
Many people think that getting traveller's insurance is just another extra policy that's not completely necessary. For most, it feels like using vacation money for something that isn't necessary. However, if something happens and you need hospital care, medicine, or even emergency transportation, your insurance might not cover this, and the out-of-pocket expenses can put a serious dent in your budget.
The list is endless when discussing things that a typical personal accident or medical insurance policy does not cover. Instead of putting yourself and your wallet at risk, you can always take out a policy with a travel provider to ensure that these types of expenses are covered in case of an emergency. Remember that each policy can be catered to your specific needs and budget, no matter what they are.
My Credit Card Insurance is Plenty
Another thing that people do not consider is their credit card. Most people think that the insurance their credit card company provides them with is enough to keep their credit and finances safe while on vacation. Unfortunately, there are times when that simply isn't enough. Things like flight issues, cancellations, or even luggage loss can put pressures on your credit card or and even put your identity at risk. Luckily, travel insurance will give you the best protection for your finances during your travel period to protect yourself and your credit.
It's Too Difficult to Apply
One thing that insurance providers in the travel industry hear the most is that applying for traveller's insurance is difficult and time-consuming. However, things have changed quite a bit since the traditional methods.
An advisor will only need to ask a few straightforward questions to pre-qualify you.  From there, you have the control to choose the best available level of coverage. Policy documents can be issued electronically, with access stored directly on your smartphone.
During the biggest travel months, those going on vacations or holidays are always getting excited about packing up and preparing for a great, relaxing trip. However, one thing that many people forget about is the importance of travel insurance. Despite those common myths discussed above, people can still rely on travel insurance to not only help in a sudden emergency but to give them peace of mind while they relax on their trip.
For more information about travel insurance and to find the coverage that's right for you, call WB White Insurance at 877-420-4572 or contact us here.
Leave A Comment
The comments are closed.