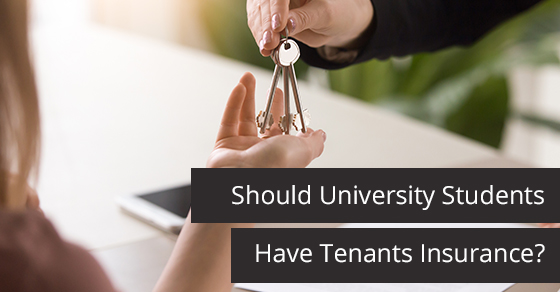 Should University Students Have Tenants Insurance?
Statistics Canada claims that less than half of renters in Canada have tenants insurance. Also known as renters insurance or contents insurance, Canadian University students can benefit from this type of coverage. The problem is, most students don't know exactly what it does and how important tenants insurance is.
What is tenants insurance?
Insurance is important because it protects you and your stuff. If you have a car, you need to have insurance so that if someone rear-ends you, you're not paying for damage that wasn't your fault. The same goes for your things. Tenants insurance is put in place to help renters whether they are university students or not, to protect them against the unforeseen like theft, fire and injury. Your landlord (if you live off campus) or the university (if you live on campus) have their own insurance to protect them but it does not extend to you, which is why tenants insurance is necessary.
Why do university students need tenants insurance?
For many Canadian students, attending university marks their first time away from home. Every student has two things that they need; a phone and a laptop. What happens when both of those things get stolen? If you do not have insurance, you'll have to pay out-of-pocket for these items should they disappear. With tenants insurance, theft is covered and you don't have to worry about covering the expenses yourself.
Besides coverage for theft, there are many reasons why students need tenants insurance:
It's affordable and usually less than your monthly coffee budget. Think of what you spend on coffee per month and cut that number in half. That is what your insurance will cost.

It doesn't just protect laptops and phones, it protects all your things, including your furniture, jewelry, soundsystem and television. Imagine being robbed and having to replace all that stuff on your own? Even if you have a part-time job, you won't be able to pay to replace your things all at once. With insurance, you get a lump sum that covers the replacement of all your stuff.

Tenants insurance protects those who live in dorms and those who rent apartments on or off campus. It doesn't matter where you live, as long as you pay rent or dorm fees, you can get tenants insurance.

In the event of a fire or property damage due to flooding or other weather factors, that force you to you have to find new lodging while your place is being repaired, tenants insurance will cover the cost of that transition and your temporary housing.

Insurance protects you against other people. For example, if a friend visits your dorm room, gets a little rowdy and breaks something that belongs to the university like a wall or a painting in the hallway, your tenants insurance will cover the repair costs.
How to get tenants insurance in Ontario
No matter where you live in Ontario or what school you're attending, if you are living away from your parents' house, you need tenants insurance. For example, if you are moving to Oshawa to attend the University of Ontario Institute of Technology, you'll need a tenants insurance Oshawa package. If you are moving to Toronto, you'll need a package that is tailored to the school you're attending. To get tenants insurance you'll need to meet with an insurance broker. You can do so through your bank or through a brokerage firm. However, if you decide to use your bank, keep in mind that they can only offer you their insurance packages. When you meet with a broker, they have access to different packages that can be customized to suit your needs. You can also talk to your parents and see if you are covered under their insurance plan. Although, if your parents live in Quebec and you are attending university in Ontario, coverage may not be possible under their plan and you'll need to get your own.
Take stock of your belongings
Before you meet with a broker, take a detailed inventory of your stuff and see how much it's worth. This helps the broker know exactly the type of tenants insurance you need and how much coverage is necessary. For instance, your laptop may have been a gift from your folks but you'll need to know how much they paid for it to help out your broker. A typical inventory list for a college student will look like this:
Laptop $1,500

Smartphone $600

Wireless printer $80

Furniture $2,200 (couch, futon, desk etc.)

Miscellaneous $1,000 (books, art supplies etc.)
Please contact us at WB White Insurance to inquire about our tenants insurance Oshawa packages or packages for any other city or town in the province. Without tenants insurance, you won't be able to protect your stuff and mom and dad may not be too keen to replace a stolen laptop if they have to pay out-of-pocket.
Leave A Comment
The comments are closed.