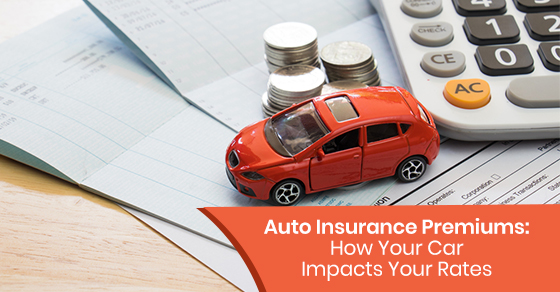 Auto Insurance Premiums: How Your Car Impacts Your Rates
When it comes to auto insurance premiums in Canada, each vehicle in Canada has been assigned a car code based on the year, make, and model. The Insurance Bureau of Canada collects data and statistics nationwide about different claims and expenses that happen across the country. One of the things they track is the financial costs of each car, which is based on the number of incidences, claims, and expenses that is caused by direct damage from a collision (DCPC, also known as "no-fault insurance" in Ontario). There are other claims that are tracked and recorded, which includes Comprehensive Claims (such as theft) and Accident Benefits (which includes injury costs).
The purpose behind these auto insurance premiums is to set premiums that are relevant to the type/kind of vehicle that a person is driving. For example, Honda Civics are a very popular car among many people; especially, young people and newer drivers. Even though it's a well-made, safe, and easy to maintain vehicle, it does generate a higher rating compared to similar cars in its class (i.e. Ford Focus) because of the claims statistics and accident history (younger drivers tend to have more serious accidents with these vehicles). Recently, the Insurance Bureau of Canada announced that they revised the rate groups on all brands, makes, and models, which is why part of your renewal increase is due to change in the rate groups for your vehicle. This only has to do with the claim statistics nationwide for the car you are driving – that's it.
How Car Insurance Rates Are Calculated
There are many factors that come into play when it comes to getting a car insured, and figuring out the rate(s) that you will have to pay. Things such as where you live, how much you drive, whether or not you are a good or bad driver, and a variety of other factors will affect your car insurance rate.
Here are some factors that are highly considered by insurance providers:
Driver's Personal Information: Things such as your age, years you have had your license, and where you live can have a major impact on the rates you are paying.
Driving Record: If you have a clean driving record with no tickets or at-fault accidents, that'll work in your favour. That being said, if you have a history of many tickets and at-fault accidents, you might find that your premium is a bit more expensive.
Driving Habits: With auto insurance, the more you drive, the more you will pay for insurance. Your insurance rates can be affected by how often and how far you drive your vehicle.
Insurance History: The number of years you have maintained continuous insurance speaks volumes about your reliability. A policy holder that has always renewed their insurance, and paid their premiums on time, will be viewed favorably and qualify for a better insurance rating.
Type of Car Driven: The kind of vehicle you drive can massively impact how much you are paying for your insurance premiums. Older cars with lesser safety features can be expensive, as well as luxury vehicles that would be pricey to repair.
Did you know that insurance rates vary amongst different vehicles?
It is a fact that some cars are cheaper to insure than others and it usually depends on the value of the vehicle. Insurance companies not only track records from drivers, but they track statistics and records on all different types of vehicles; all of which affect insurance premium costs. They can even link insurance premiums to different types of models within the same brand. Every single vehicle out there has its own cost when it comes to insurance, and that is well before a driver is taken into consideration.
Car Related Factors
There are many different factors that are taken into account with insuring vehicles. Since every vehicle, brand, and model is broken down to its own insurance premiums, there are more factors that come into play when insuring said vehicle. Some of these vehicle-related factors include the following:
The Type of Vehicle: What is the car designed for? Is it a performance or family car?
Claim Costs: How expensive is it to repair? How much will it cost to replace the car?
Theft: Is the car more likely to get stolen compared to [X] car? What is the theft track record for the specific model/brand?
Safety: What is the vehicle safety rating? What is the vehicle's safety history? How many injuries & fatalities have come from this vehicle over a [certain] period of time?
External & Other: Does this vehicle have any important history that needs to be brought up?
2018 Cheapest Cars To Insure in Ontario
According to leasecosts.ca, here is a list of the cheapest 2018 model cars to insure in Ontario:
Toyota Prius C Hybrid Automatic 2WD
Chevrolet Cruze LS Automatic 2WD
KIA Sedona L Automatic AWD
Nissan Versa Note S CVT 2WD
Ford Focus Electric Automatic 2WD
Hyundai Elantra LE Automatic 2WD
Chevrolet Cruze Hatchback Automatic 2WD
Toyota Tundra Reg Cab Automatic 2WD
GMC Canyon SL Crew Cab Automatic 2WD
Jeep Wrangler 4WD
The one aspect you need to keep in mind is that the "cheapest" car to insure will always change over time, whether it is within the next month, six months, or even a year. As new vehicle models and brands come into the market, insurance agencies will adjust and determine how the rates will be set, which will leave some vehicles lower while other much higher on their premiums.
Since 1929, W.B. White Insurance has been a trusted insurance and financial adviser to clients throughout Ontario. For more information on vehicle insurance or to obtain a quote, contact WB White at (905) 576-6400 or contact us here.

Amanda began her insurance career in 2000. As a Chartered Insurance Professional (C.I.P.), Amanda is passionate about continued education for insurance professionals. Amanda teaches the Insurance Broker Licensing program through Durham College, and speaks about insurance related topics at B2B events.
Leave A Comment
The comments are closed.