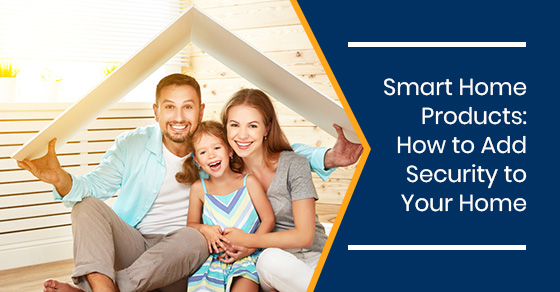 Smart Home Products: How to Add Security to Your Home
Today, smart technology touches all aspects of your life. In fact, connectivity allows you to use your computer and smartphone along with other devices to keep track of just about anything, including your home. You can now control components of your home with completely automated systems to create your smart home. One of the most important elements of smart homes is whole-home security.
Different service providers offer these advanced systems. They integrate a number of security and home controls, allowing you to be safe and sound, whether you are home or away. You can add security to your home using smart home products with these helpful tips.
There are many smart home product categories so that you can control everything from lights and temperature to locks and security in your home. Some of the most popular items include:
Emergency Sensors
You can keep track of what is happening at your home by installing sensors that can alert you to several home emergencies. From activating lights outdoors using motion sensors to motion detectors outside, you can ensure your home is secure when you are away. You can then receive email or text alerts that let you know a potential issue might be occurring in real-time.
You can also arrange for sensors that track other important issues in your home, including sensors for humidity, heat, and water. This will alert you when emergencies such as broken pipes occur so you can limit the damage that will require you to dip into your home insurance.
Smart Lighting
Smart lighting might seem like a little thing, but it can be a great weapon against intruders. Combining home automation with sensors, you can have your property primed to scare away potential burglars and intruders. Smart lighting can be used in many ways, including:
Outdoor lighting set with motion sensors to turn on when intruders are around your home.
Interior lighting can be set to turn on at night in the rooms and areas of your home that will make it look like you are home.
Timed lighting can turn lights on and off to mimic your evening routine, such as lights in the living room at bedtime, bathroom lights, and then bedroom lights on and off when it's time to sleep.
You can set the lights up the way you want. You can even come home to a lit hallway to help avoid trips and falls in the dark.
Smart Heating and Cooling
Smart heating and cooling might not seem like they play a role in security, but they do. When you are away on vacation, burglars look for things such as air conditioning not turning on in the summer, or heat not being on in the winter. As well, winter vacations put your home at risk for burst pipes when the temperatures dip dangerously low. You can adjust your heating accordingly to avoid water damage when away.
Home Automation
You can control your home security from anywhere with inexpensive smart security systems. These systems can be controlled via your smartphone. As mentioned, you can make it appear like someone is home by adjusting and turning on lights. However, you can also keep track of your home with surveillance cameras. You can choose from different main controls in your home, which can range from light switches to speaker-powered systems like Alexa. You can connect just about anything to automate your home, from lights to thermostats and appliances to your security system. You can also use the touch screen systems if you prefer.
All of these home automation systems use Wi-Fi or Bluetooth technology to connect to and control various smart devices in your home. It's really up to you which type of system you prefer, whether it is activated by smartphone, voice, touch screen, or all of the above.
Surveillance Cameras
Surveillance cameras can be used both inside and out to help you keep track of your property. Smart systems can provide alerts when there are potential signs of trouble.
You choose the types of cameras you want, whether they are stationary or something more expensive and sophisticated. The higher-end cameras allow you to control them remotely, including features that can zoom in, move the cameras to look about the area, motion tracking, night vision, and more. Most are now completely wireless, which means they can be installed in your home without the need to destroy your walls or ceilings.
Video Doorbells
The video doorbell allows you not only to see who is at the door when you are home but even when away. When someone rings the bell, you simply check your smartphone to see who is there. You can instruct deliveries to leave the package at the door, ask someone at the door to state their business, or greet guests and unlock the door for them. These systems are easy to install and come with multiple features, including connectivity to systems such as Alexa. They come with motion triggers as well, so you can be alerted if someone is at your door without announcing their presence. This can avoid intrusions, but also can alert you to a potential thief looking to steal a package or mail left at your front door.
Smart Locks
Smart locks are an excellent choice for families. If the kids forget their keys, they can contact you, and you can unlock the door for them. If you forget to lock the door, you can lock it from work. They are compatible with a number of different technologies, including Alexa and Siri. Most are a feature offered by smart security systems, but some can be purchased as a home kit on their own.
These tips will help you decide which smart home products suit your needs. A smart home complete with security features helps protect your home and can also reduce your home insurance rates.
For more information about home insurance to protect your home, speak to our team at W.B. White Insurance today.

Amanda began her insurance career in 2000. As a Chartered Insurance Professional (C.I.P.), Amanda is passionate about continued education for insurance professionals. Amanda teaches the Insurance Broker Licensing program through Durham College, and speaks about insurance related topics at B2B events.
Leave A Comment
The comments are closed.