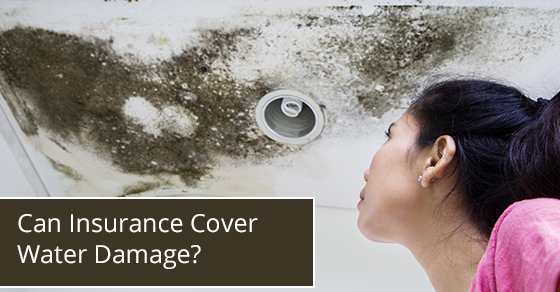 Can Insurance Cover Water Damage?
Although flooding occurs so rarely in Ontario, your home can suffer water damage. If you have homeowner's insurance, a type of financial insurance designed to cover issues within the home and on your property, water damage may be covered.
What constitutes water damage?
There are five types of water damage: traditional water damage, damage inside the home, damage outside the home, sewer back-up and overland flooding.
Traditional water damage

This type of coverage is put in place to protect your property. For example, if heavy winds and snow cause your roof to leak, incurring damages to the ceiling and floor, your home insurance should cover the repairs. Some insurance companies call traditional water damage "clean water damage" because the water involved is natural and not from a sewer or sump pump. The key to determining coverage is "sudden and accidental". Basically, any water that damages your home from a clean water source is considered traditional water damage (except for overland flooding, which we will cover in #5).

Damage inside the home

This type of water damage involves sudden leaks inside the house that ruin the floors, walls and ceiling. These leaks can come from a cracked bathtub, cracks in your home's foundation, broken washing machine hoses etc. Long term water damage such as seepage or slow leaks are not covered. Maintaining your home plumbing is a condition of the home insurance policy.

Damage outside the home

This type of water damage is usually caused by melting snow banks. In most Canadian provinces, snow removal involves piling it up into banks on the side of the road. However, the moment it warms up, those banks melt and can damage your lawn. You can bundle coverage for damage outside the home with traditional water damage since snow is considered clean water.

Sewer back-up

Unlike traditional water damage (as explained in #1), a backed-up sewer does not release clean water. The damage accrued from dirty water can ruin your yard and the foundation of your home. Besides a sewer blockage releasing dirty water all over your lawn, water damage can also come from pipes, drains, eavestroughs, downspouts, or your septic tank. When there is too much snow and precipitation in an area, it can wreak havoc on a city's sewer system. Sewer back-up may force you out of your home while it is being repaired, which is why you should consider adding this type of coverage to your existing homeowner's insurance.

Overland flooding

Traditionally, if you lived on the banks of a lake or the ocean, your home was susceptible to overland flooding. This type of water damage comes when a body of water overflows and makes its way onto dry land. However, with changes to our climate, flash flooding by rain and melting snow is now creating overland floods. Overland flooding can damage your home, yard and cars. However, standard coverage for overland flooding does not exist in Canada. That is why it is extremely important to talk to an insurance broker or insurance agent about overland flood coverage. Ask what the policy limits are and if there are special deductibles imposed for this coverage. Not all water damage insurance plans are equal.
What can you do to prevent water damage?
Having financial insurance in place is the first step. Although insurance cannot prevent water damage, it can protect you against it. To stop water damage before it starts you should inspect your home. You don't need to hire a professional home inspector. All you need is a checklist. Walk around the inside and outside of your home and look for areas that would be susceptible to water damage. Here's how:
Look for cracks in your tub and shower grouting and repair them ASAP

Examine the floor of your basement and seek out cracks in the foundation. It's best to do this after a heavy rainfall because you'll be able to see if water has penetrated the basement floor

Unclog all drains to remove any hair so that they don't block or overflow

Inspect the hose of your washing machine to ensure that it's not damaged. If it is, change it before you do your next load of laundry

If your pipes are prone to freezing in the winter, contact a professional plumber to fix this issue. Frozen pipes run the risk of bursting and can cause major damage to your home

If you're going to be away for long periods of times, make sure to shut off your main water supply and ask a friend to check on your home while you're gone

When shovelling snow, don't pile it up on the side of your house. Keep banks away from your property by piling them up at edge of your lawn and away from your home because melting snow will seep into your home, especially the basement
Please contact WB White Insurance for more information about our financial insurance packages and how you can protect your property from water damage.
Leave A Comment
The comments are closed.