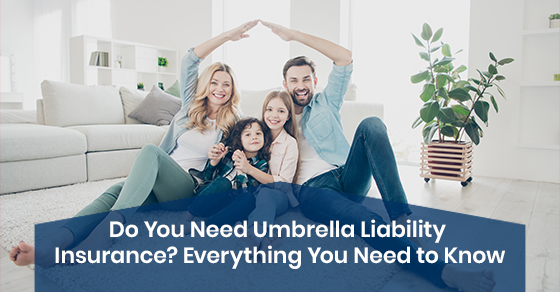 Do You Need Umbrella Liability Insurance? Everything You Need to Know
As a property owner, there's a reasonable expectation that you'll do everything in your power to avoid accidents and prevent injury or damage to others —- whether it's through up-to-code care of your premise or demonstrating reasonable care and courtesy for the safety of others. Naturally, it is impossible to anticipate every scenario, which is why your home insurance policy includes liability insurance coverage. But is the standard liability coverage enough?
Aside from providing financial compensation for property loss and damage, home, auto, and watercraft insurance policies cover standard liability issues. These include personal injuries suffered by people on the property, other than residents, as well as property damage incurred by neighbours and other parties in the event of accidents caused by you.
Standard coverage limits alone might not be enough depending on the severity of the damage and the resulting liability.
Umbrella Liability Insurance works like a top-up. It provides added protection that goes on top of your standard property insurance policy, allowing you to achieve full financial stability and future security in the face of an accident or claim. When it comes to your most essential assets and lifelong investments, there's no such thing as too much security.
Umbrella Liability Insurance: The Basics
Also known as Personal Excess Liability Insurance, this is a secondary insurance policy that's designed to support your existing home or property coverage. Umbrella liability insurance provides additional coverage through increased liability protection in the event of legal claims, set to activate when the limit of your base policy is not enough.
This increased protection covers the cost of litigation and legal defence fees, ensuring the utmost peace of mind with a minimal investment in truly comprehensive coverage.
Do you Need Umbrella Liability Insurance?
The reality is, an accident may not simply result in damage or loss of your property and belongings — neighbours and third parties may also suffer damages for which you may be held liable.
Standard home, auto, and watercraft policies include liability coverage covering the cost of an injured party's medical and rehabilitative treatments and lost wages you were deemed liable for. The remaining amount of the coverage limit is then directed towards legal bills; however, this is often not enough — especially in large accidents that require increased legal fees and compensation.
With limited liability coverage in standard home and auto insurance policies, homeowners and drivers are also at risk of having their personal assets seized as a result of a lawsuit. The financial impact of such a consequence can be avoided with the added protection from Umbrella Liability Insurance.
Your Umbrella Liability Coverage Limit
Just like the base policy, the right amount of excess liability coverage depends on your lifestyle and budget. What risks do you face at home and on the road? How much do you stand to lose in a life-changing accident?
Key considerations for getting the right Umbrella Liability Coverage include:
The existing liability limits of your standard home, auto, and other property insurance policies. The minimum limit on all should be $1 Million.
How will you pay for legal fees if a lawsuit exceeds the limit on your current policy?
Are you a Landlord? There are additional legal requirements imposed upon you that a standard Rented Dwelling liability policy does not cover.
Do you sit on a board as a Director, volunteer with charities, or work with Not-For-Profit organizations? An Umbrella extends coverage to you that a standard home liability policy does not.
Does your lifestyle include property that increases your liability exposures? Examples include owning a pool, waterfront property, recreational vehicles, and watercraft to list a few.
Consider your quality of life following a potential loss of income and existing assets that may be seized to compensate for liability judgements against you.
How much does Umbrella Liability Insurance Cover?
The best part about Umbrella Liability Insurance is that it comes in various coverage amounts, depending on your needs and budget. Because of this, your policy can cover anywhere between one million to ten million dollars, ensuring comprehensive financial protection depending on the risks you face — and the value of assets you would like to secure.
For new homeowners, drivers and young people just starting to acquire assets and investments, additional liability protection might not be a priority at the moment. But even with minimal established assets today, court awarded payments may be taken from future earnings or potential income, essentially requiring you to work off the debt for years to come.
Your Umbrella protection covers you worldwide, not just while at your home or in your vehicle. This means that anywhere you travel, you have peace of mind protection. It is also important to note that your liability policy limits are in Canadian funds. If you were involved in a lawsuit while travelling in the United States, where the Canadian dollar trades at a lower value, your coverage is instantly reduced due to exchange rates. An Umbrella is an ideal solution to help offset differences in international currencies.
Does Umbrella Liability Insurance have any Restrictions?
The first thing to be aware of, is you may be required to carry the same liability limit on all your insured policies. Your Broker will ask for the policy details for all your automobiles, properties, and any recreational items to confirm that the liability limits match.
There are always scenarios so risky that a company cannot insure, such as acts related to violence. When shopping around for insurance providers, make sure to look into the conditions and exclusions of the Umbrella policy.
How much does Umbrella Liability Insurance Cost?
Because it's an extension of existing property insurance coverage, Umbrella Liability is a low-cost, minimal investment in your financial future. For as low as $125 a year, you can enjoy guaranteed peace of mind in at least $1 million dollars of liability coverage, making it the best way to secure comprehensive protection for your prized assets and long-term lifestyle.
Where do I get Umbrella Liability Insurance?
Are you ready to enjoy unparalleled security and financial stability?
Umbrella Liability Insurance is easy to acquire and can be seamlessly activated as an endorsement under your current home or property policy. All it takes is a detailed application that includes a comprehensive listing of everything that is of value and matters to you. With this information on file, you can breeze through the claims process and prevent further loss of assets.
Here's what you need to enjoy the full financial protection of an Umbrella Liability Insurance policy:
A list of all your home, auto, and watercraft properties, including existing insurers
The liability limits of the base insurance policies
Your personal information, as well as any membership in the board of directors of a corporation or non-profit organization
To learn more about umbrella liability insurance, call W.B. White Insurance at 877-420-4572 or contact us here.

Amanda began her insurance career in 2000. As a Chartered Insurance Professional (C.I.P.), Amanda is passionate about continued education for insurance professionals. Amanda teaches the Insurance Broker Licensing program through Durham College, and speaks about insurance related topics at B2B events.
Leave A Comment
The comments are closed.