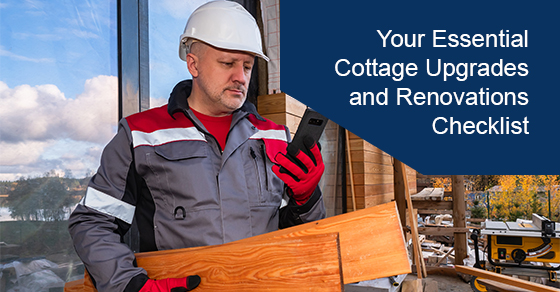 Your Essential Cottage Upgrades and Renovations Checklist
Cottages have long been a mainstay of many families' lives. Whether it's visiting it in the summer or creating your own perfect cottage to resell in the future, there's a lot of different kinds of enjoyment to be derived from the process of refining and enjoying a delectable piece of cottage property.
In fact, while the pandemic has led to a lot less travelling in almost all areas, cottages aren't as affected. Close as they are to nature and away from the bustling crowds and vectors of disease, many people are finding that they're using the cottage year-round as a substitute for typical vacations.
If you truly want a four-season getaway, though, then you need to refurbish your cottage to peak condition. Here's what you need to know.
Vet Contractors
One critical thing to remember before you start paying for work to get done is to check that the person or company you hire is reliable.
This means you should vet them carefully. Look to make sure they can provide a Certificate of Insurance that will cover unexpected mishaps caused by the contractor. Don't forget to use the Internet and social media. There will almost certainly be reviews, testimonials, and possibly even photographed examples of their work. This way, you can make sure that your cottage is being fixed up by the best contractor possible.
The Legal Details
There are some important legal requirements that you'll need to keep in mind when renovating. Contact the local Municipality to make sure you have the required permits before beginning a renovation project. After all, you don't want to end up charged or fined! You may also need special insurance, beyond the contractors insurance, while the renovations are taking place.
Remember that if you're working on a boathouse or bunkie, then you'll need special coverage for detached structures. Also, remember that any additions and renovations you build will require your building limits to be completely re-assessed by a broker.
Upgrades and renovations may also increase the rebuild value for the cottage itself. It is important to ask for a new valuation with an insurance professional.
Similarly, if you find yourself using the abode year-round, then you may need to review insurance plans and double-check that your activities are adequately covered. In fact, a four-season cottage may even need secondary homeowner's coverage rather than just a cottage plan.
Heating and Insulation
If you're planning on using your cottage all year-round, then you need to make sure it's equipped to do so. This could mean installing an appropriate heat source. However, it's not as easy as installing a wood stove or fireplace. In fact, you'll need to consult a professional and find out which installation will suit you best.
What you use here can vary widely based on how much you're willing to spend and how cold the area gets. Keep in mind that certain types of heat sources, for instance, wood stoves, can negatively impact the cost of your insurance, or possibly render you completely ineligible. Knowing your heat until it is installed by a licensed professional and can be certified is critical. Like we've already covered, make sure to talk to your insurance provider, or perhaps find a new one like W.B. White that can offer more tailored and well-priced deals.
You also want to make sure you have good insulation. If you're planning on spending any length of time there when it's cold, you don't want to spend excess energy costs due to leaking heat. In fact, you may even need a vapour barrier to prevent condensation from developing within the walls. This is important because if you don't have this, mould or rot could develop, which is bad for your health and your wallet, as it's likely not covered by standard home insurance policies.
Update Your Utilities
Another important thing to keep in mind for longer periods of cottage use is the effectiveness of your utility systems.
If you've only visited during the warmer months in the past, this is an easy area to overlook. In truth, your electrical and plumbing systems, like your septic system, will probably need upgrades for all-season visiting. This is something you should definitely call in a professional because a licensed plumber and electrician can break down the exact needs of your cottage.
With this breakdown, they'll also be able to do all the work needed to winterize your utilities, which is exactly what you're looking for here. For instance, they might make sure your plumbing runs on the warm side of your aforementioned insulation so that the pipes don't freeze or burst.
Unfortunately, this can be quite expensive as instead of just draining the pipes like you usually would, you'll have to either entirely renovate existing piping systems or install new ones. Of course, this is hardly something you can ignore, as you'll definitely need running water and you also certainly don't want to damage your property.
Upgrade Doors and Windows
Adding to the list of things that need upgrading is your windows and doors. This ties in slightly with the insulation issue, as you need to make sure your windows and doors are well-sealed. This is critical because it will prevent cold air from entering and warm air from leaving, saving you energy and keeping you warm.
For your windows, this might mean a complete swap-out, such as upgrading to double-paned windows.
Consider Other Expenses
Even beyond insurance changes, contracting, and physical renovations, there are other expenses you may have to factor in if you're going to use your cottage more often.
Some of these hidden costs could include utility, transportation costs, hiring someone to clear your walkways and driveways while you're out of the area, and even more miscellaneous things like buying winter gadgets. After all, what's the point of living out in the country during the winter if you can't cross-country ski or snowmobile around?
Closing Thoughts
COVID-19 is a hidden opportunity for you to upgrade your cottage and enjoy it in ways you never have before, so don't miss the chance. This checklist is a great starter set of things to do, but of course, there are many more upgrades that we didn't have the chance to include. Keep following us to see more articles in this vein.
If you're looking for cottage insurance now that you know exactly what your cottage needs are, feel free to contact the professionals at W.B. White. We provide top-notch service at a reasonable price and can be reached at 1-877-727-0757 or through our convenient web portal right here. We look forward to helping you!

Amanda began her insurance career in 2000. As a Chartered Insurance Professional (C.I.P.), Amanda is passionate about continued education for insurance professionals. Amanda teaches the Insurance Broker Licensing program through Durham College, and speaks about insurance related topics at B2B events.
Leave A Comment
The comments are closed.