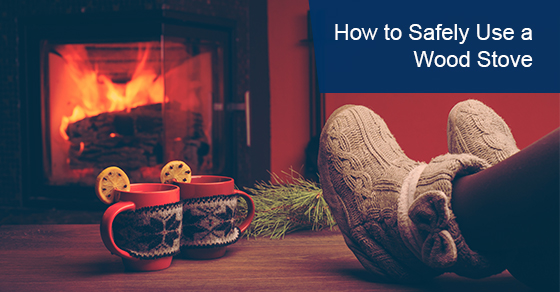 How to Safely Use a Wood Stove
Wood stoves and fireplaces offer a homeowner one of the ultimate comforts. Some might argue that curling up beside a crackling fire on a chilly night is one of life's greatest pleasures. Wooden stoves can be a great addition to any home design, adding a beautiful, rustic element to any room.
Although wood stoves might look pretty, there is still a good deal of risk if something were to go wrong. After all, you are putting a live fire in your home. To keep your wood stove operating correctly and safely, you must maintain it and have precautions in place.
Before you fire up your wood stove or fireplace for the winter season, consider these tips to keep your family nice and toasty while staying safe.
Safety Tips for Heating Your Home With a Wooden Stove
1. Call in a professional
If you would like to install a new wood or pellet stove in your home, it's best to bring in a certified professional. They'll help you choose the right stove that suits your home and inspect your space and offer floor protection. In many cases, you will be required to provide a WETT certification. This will validate that your stove meets all safety standards in the event you are selling your home or shopping for a new home insurance policy.
2. Inspect your wood stove properly
Each year, you should have your wood stove inspected by a professional to ensure that everything is in working order. This inspection is known as the WETT inspection. WETT stands for Wood Energy Technology Transfer, which must be conducted by a certified WETT contractor. They will ensure that your wood stove is installed correctly and provides the most efficient heat.
Without a WETT inspection or professional installation of your wood stove, you can risk voiding your home insurance coverage if your home suffers from a wood stove-related fire.
3. Double-check your alarms and fire extinguishers
You should be checking your fire and carbon monoxide alarms monthly, even if your home does not have a wood stove or fireplace. You can also read your stove's instruction manual for specific information regarding alarm placement, for example, how much distance your alarms should be from your unit. Be sure to keep a fire extinguisher on hand and that everyone in your household knows how to operate it.
4. Get your chimney inspected
Chimneys can deteriorate through heavy use, neglect as well as age. Creosote build-up can cause this deterioration at a rapid rate. Creosote forms when unburned waste products from burning wood stick to the sides of the chimney. This is dangerous because it can ignite inside of your chimney and cause a fire, which can spread to your house. This hazard can be simply avoided by having your chimney checked yearly.
5. Only use seasoned wood
The type of fuel you use in your wood stove is crucial. Seasoned wood burns better than fresh wood. It is dry and burns more efficiently. You should aim to have a mix of hardwoods (oak or maple) and softwoods (pine or cedar). Hardwoods burn slower and produce more heat, making them the preferred choice for a wooden stove. However, softwoods are great for use as kindling and keeping a fire going. Be sure to use wood that is 3 to 5 inches shorter than the box in your wood stove, which will ensure proper burning.
6. Clean the ashes regularly when your stove cools down
Wherever there is fire, there is always ash. Your wood stove will produce ash after every use, so you should potentially clean it after every use as well. Keeping your wood stove clear of ashes will help your wood burn more efficiently.
Make sure only to wash your stove once it has cooled down to room temperature. While some ashes may be cool enough to remove, they might still be hot enough to melt through plastic or reignite a fire. You should store ashes in a metal container and away from any combustibles.
7. Enjoy your wood stove from a safe distance
Some of the surfaces on your wood stove will be hot to the touch when it is in use. Make sure you keep children and pets away from it to enjoy at a safe distance. You might also want to consider setting up a safety gate to keep small hands and paws safe and away from the heat.
8. Use proper fire starting techniques
There is a specific technique to use for starting a fire in your wood-burning stove. The first rule is never to overstuff your stove. Professionals recommend using only three pieces of wood in your stove at once. Use dry kindling as well as newspaper as a fire starter. Once your wood starts to diminish, you can add more wood, but still, make sure not to keep more than three pieces of wood in your stove at once.
How does having a wood or pellet stove affect your home insurance?
Wood or pellet stoves are one of the riskiest heating systems to operate within your home. This risk could affect your home insurance cost or even influence the type of coverage you are eligible for.
That's not to discourage you from keeping yours, but if you plan on adding one to your home, it is crucial to speak with your insurance provider during the planning phase. Your insurance broker will be able to help you make an informed decision, so you don't run into any unexpected and costly surprises down the road.
Even if you are using your wood stove with the utmost care, you should still ensure that your home is covered. Be sure to carefully read your policy so you can make sure that a wood stove does not void your coverage. Some insurance plans might have specific requirements to guarantee your home is covered if a fire occurs due to your wood-burning stove.
For more information about wood stoves and what that means for your personal home insurance in Oshawa, call W.B. White Insurance at 1-877-727-0757 or contact us here.

Amanda began her insurance career in 2000. As a Chartered Insurance Professional (C.I.P.), Amanda is passionate about continued education for insurance professionals. Amanda teaches the Insurance Broker Licensing program through Durham College, and speaks about insurance related topics at B2B events.
Leave A Comment
The comments are closed.