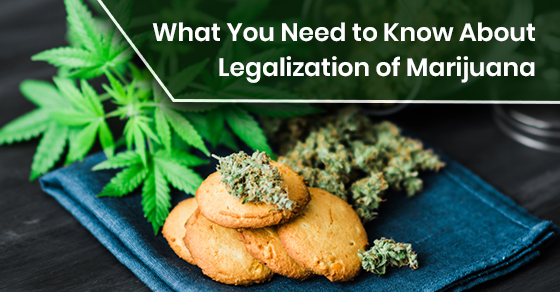 The Legalization of Marijuana: What Does It Mean for You?
October 17, 2018 will be an important turning point for Canadians. On this date, the federal government will officially legalize the use of marijuana. After many years of consulting advocacy groups and multiple reviews of The Cannabis Act, Canadians will finally be able to use marijuana within a strict legal framework. Our country is only the second in the world, and the first of the G7s, to allow a nationwide cannabis market. So what does this historic change mean for regular citizens like you and me?
Let's explore some of the main pillars of this historic bill before examining how it will affect the lives of millions of Canadians — particularly those in Ontario. The Cannabis Act has been touted by the Trudeau government as a progressive policy that will replace a failed model that has made criminals rich. Its goal is to do the following:
Keep cannabis away from youth
Keep profits out of the hands of criminals
Protect public safety by allowing adults to access safe, legal cannabis
It should be noted that although The Cannabis Act will set a benchmark of rules surrounding marijuana use, individual provinces will have the jurisdiction to impose their own set of laws. For example, the federal bill states that Canadians 18 years or older can legally buy and possess pot. In Ontario, however, the minimum age requirement is actually 19 years of age or older. This is the same as the minimum age for the sale of tobacco and alcohol in the province.
For Ontarians, the legalization of marijuana means an overhaul to many other aspects of our lives. From impaired driving rules to amended insurance policies, this new reality will affect us in some way or another. Let's look at some key areas that will be impacted by this historical change.
Social Hosting
Alcohol has been a standard offering for guests during social gatherings. But with the legalization of pot, you can bet many people will soon expect marijuana at the parties they attend. From wedding receptions to birthday BBQs, it is the host's responsibility to allow safe and responsible cannabis use on their property.
Under The Cannabis Act, you are allowed to smoke or vape marijuana within a private residence — as long as that residence is not also a workplace. Should one of your guests become unruly or aggressive while under the influence of marijuana, you could be responsible for their actions. This means you're also accountable for keeping other guests safe from harm. By introducing marijuana to social gatherings, hosts must become aware of this added layer of liability.
Home Insurance
Under new legislation, it will be legal to cultivate and harvest up to four cannabis plants per dwelling. There is no doubt many homes in Ontario have been damaged by illegal marijuana grow-ops. From mouldy walls to faulty electrical wiring, growing cannabis can destroy the integrity of a residence. Damage to the home as a result of mould or ongoing wear and tear caused by indoor home hydroponics will continue to be excluded from insurance, and therefore not covered.
Although it is not fully clear how the home insurance industry will be impacted by legalized pot, most firms will treat cannabis as a contents item. Under policy rules, cannabis plants will become like any other personal belongings such as jewelry, furniture, or clothing. However, if your plants are outdoors, they'll be addressed under the 'Outdoor Trees, Plants and Shrubs' category of your policy.
Landlords & Tenants
One of Ontario's largest landlords has warned it may evict tenants for growing marijuana in their apartments. For those who own a home, marijuana growing laws are pretty straightforward. For tenants who live in multi-unit buildings, however, the issue is a murky one. Their right to cultivate up to four cannabis plants is complicated by their obligation not to disrupt neighbours or damage their landlord's property.
In this case, landlords have the right to add a no-growing clause to new leases. But for existing leases, Ontario law states landlords cannot unilaterally change the terms. This leaves many landlords in a tricky situation. But if the pot-growing tenant interferes with his neighbours' rights to peaceful living, there could be grounds for an eviction. Ultimately, the cannabis cultivation would have to create a problem before a tenant could be kicked out.
Driving
Using marijuana and driving is illegal and dangerous. The Cannabis Act has laid out a number of rules to restrict impaired driving. If a police officer discovers you're impaired by cannabis, you could face serious consequences. They include:
Immediate licence suspension
Possible vehicle impoundment
Financial penalties
Possible criminal record and/or jail time
Drug-impaired driving that does not cause bodily harm carries a maximum prison sentence of 5 years. Should that driver harm someone while driving impaired, the maximum prison term is 10 years. Drug-impaired driving causing death carries a life sentence.
It's important to note that novice drivers (G1, G2, M1, M2) and young drivers (21 years of age or younger) are prohibited from having any drug in their body. Everyone else is permitted to have up to 2 nanograms of THC per millilitre of blood. Anything above that (but less than 5 ng) is subject to a maximum $1,000 fine.
The legalization of marijuana is a complex issue that will take some time for Canadians to adjust to. When it comes to driving and homeownership, insurance policies will have to be reassessed to ensure the safety of all Ontarians. As the insurance market evolves, a reliable insurance firm like WB White can help you navigate Canada's new cannabis laws, and allow you to move forward with peace of mind.
For more information, please call WB White at 1-877-727-0757 or contact us here.

Jason's career in insurance began long before his official start in 2003. Jason is the fourth generation to own and operate W.B. White Insurance. As Leader with Insurance Brokers Association of Ontario, Jason has been a guest speaker and advisor to many events, including as a guest to speak with MPP's at Queens Park regarding insurance industry topics.
Leave A Comment
The comments are closed.