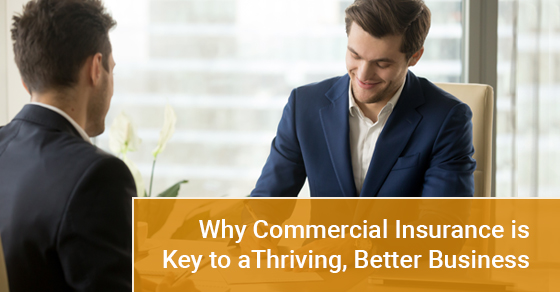 Why Commercial Insurance is Key to a Thriving, Better Business
If you operate a commercial business, you are probably well aware of the hard work that is needed to both build and maintain a presence that stands out amongst competitors. Protecting your business is critical to ensuring its ongoing success and securing your future against unpredictable events. Read below to find out why obtaining commercial insurance is a sound investment that will always work in your favour.
Operate on an Even Playing Field
While commercial insurance will protect your business from taking some potentially disastrous hits, the reality is simply that having some form of insurance is industry standard. Your company's insurance policies may not be exciting, 'need-to-know' information that directly draws in business — but the right kind can certainly stop you from struggling while your more protected competitors continue to thrive.
If you are a small business or startup owner, proper insurance can mean the difference between gaining a proper foothold in the industry or going under during the first rough patch. Ultimately, having insurance to absorb unexpected financial hits will, at the very least, keep you in the game, if not on an even playing field with other businesses.
Insure Against Employee Error
No matter how carefully and ethically your business strives to operate, accidents can — and probably will — happen at some point. At the end of the day, everyone from the top level down is human and makes mistakes.
According to the Insurance Bureau of Canada (IBC), financial loss and bodily injury are two ways your company's employees can be liable for professional negligence:
If your company is in the business of advising clients on financial matters, even trained professional advisors can find themselves — and your business — in hot water. If a person loses out financially after following your advice, they may come back to you with a suit for compensation.
Similarly, trained employees involved in administering services related to physical or mental health can be liable in cases of a client or customer's subsequent bodily injuries.
Professional liability insurance, sometimes referred to as "errors and omissions insurance", will cover your business in such events associated with a client's financial loss or bodily harm. Coverage in these cases may extend to court proceedings and settlements.
It's important to note that even if you have reason to be confident that your company is not at fault, such as in cases of aptly termed, "frivolous lawsuits", proving innocence will still likely cost you in terms of legal defence fees. Thinking of some real-world cases you may have heard, it's easy to see how oversights and errors can come back to haunt a business in the form of claims.
Examples of job roles you can proactively insure include; bookkeepers, mediators, data processors, travel agents, and accountants, to name a few.
Cover Daily Operational Concerns

Commercial lines insurance is a specifically designed service for businesses. While personal liability insurance is valuable at an individual level, your company also needs to be insured against daily issues that can impact your specific operational risks and the risks inherent to your industry. Examples of commercial insurance considerations that may be relevant to your business include:
Worker's Compensation Insurance
Unless you are operating a small, self-operated business, insurance that protects businesses when an employee claims work-related injuries is invaluable. Compensation insurance, as the name implies, will cover these liabilities, without breaking the bank.
Business Interruption
Due to any number of unforeseen circumstances, your business' ability to generate revenue can be interrupted. Business interruption coverage can help you breathe easier in the wake of an accident or any number of troubles that lead to a financial dry spell. Loss of business can be covered for a limited or extended indemnity period. Speaking with a qualified insurance provider well in advance can help you decide the best business interruption policy, tailored for you.  
Commercial Auto Insurance
If actual vehicles are the drivers for your business' success, you will benefit from speaking with a professional about commercial auto insurance. No matter what accidents or incidents happen on the road, you can rest easier knowing that costs are covered.
Public Liability
Even businesses operating up to code are liable for on-premise third-party injuries and property damage. Luckily, public liability insurance can cover compensation costs and any incurred legal fees. Without this insurance in place, your business will have to pay out-of-pocket.
Product Liability
If you sell or supply consumer products through your business, you'll likely benefit from product liability insurance. This form of insurance will protect you in the case of a consumer's property damage or personal injury claim related to a given product. On an individual case basis alone, product liability will cover compensation and legal fees. In cases of more complex product issues — such as an entire batch of 'botched' products — you will find product liability insurance can cushion your company against some more severe financial losses.
Although not every form of commercial line insurance may be right for you and your business needs, it's always to your advantage to go with a provider that can offer you a wide range of services. With marketplaces and industries constantly changing, you may even find yourself wishing to revisit option as your business changes, too. For this reason, your best bet is to go to a long-established provider that has proven its reliability and adaptability over time.
For more information about protecting your business with quality insurance, call W.B. White Insurance at 1-877-727-0757 or contact us here.

Derek began his insurance career in 2006. He is actively involved in various Not For Profit community programs in Durham Region. Derek's hands on experience has made him an expert advisor in Director and Officers Liability and Professional Liability. Derek is also a contributor to Imagine Canada's Insurance and Non-Profit Resource Centre.
Leave A Comment
The comments are closed.