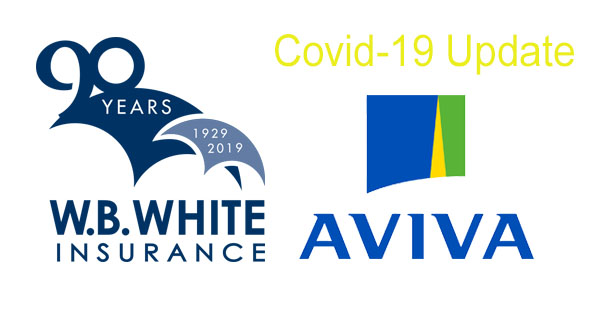 Aviva COVID-19 – How to Claim Your Rebate – Rebate Expires July 15 2020
Aviva has re-assessed the impact COVID-19 restrictions have had on their policy holders. They have introduced real solutions to help policy holders with savings and flexible options to during this difficult time.
–90 Day "Reduced Use" Rebate: If your use has been reduced as a direct result of COVID-19 restrictions, Aviva is offering a 15% rebate off your insurance for 90 days. That is 3 months of savings! You simply need to confirm if COVID-19 has resulted in reduced usage on some or all of your vehicles to qualify. The rebate automatically expires after 90 days, so there is no need to update us if you return to normal driving habits sooner.
Additional Cost Savings Options to Consider Include:
–The Stay Home Endorsement: For customers that will not be driving their vehicles and wish to "park" their cars can add the Stay Home Endorsement. This endorsement does require your vehicle remain parked for a minimum of 15 days. (The industry standard is normally a minimum of 45 days). The good news is that you qualify for an instant rebate of 75% off your car insurance. A form is required to be signed confirming that the vehicle will not be driven under any circumstance for the minimum 15 day duration.
–Reduce Coverage to Fire and Theft: This is the ideal solution for clients with multiple vehicles in the household and only want to drive one car for the foreseeable future. We can remove all but Comprehensive coverage (aka Fire and Theft) on vehicles you choose to "park" in your garage or driveway. If there is a lien (financing) or lease agreement attached to your vehicle, you will need to obtain written permission from the finance company/lessor first. A condition of your finance arrangement is that Liability and Collision coverage be maintained at all times. This is the reason why we require their permission to reduce your insurance coverage.
–Price Freeze: For customers that have not had any new convictions or accidents since last year will renew at the same premium-no increases! This applies to any auto policy renewing as of June 15, 2020.
For over 90 years, W.B. White Insurance has been Ontario's trusted choice finding solutions to help you manage your insurance costs and coverage's. If you are still having a struggle making your insurance payments, we have ensured that Aviva will waive any NSF and reinstatement fees during this crisis. Our focus is to give you every reasonable option to help make insurance affordable, especially during this difficult time.
If there is further breaking news, we will posting updates on our Facebook, Twitter, Instagram accounts and on our website. Please like and follow to ensure you are getting the most accurate and up to date information about your insurance.

Amanda began her insurance career in 2000. As a Chartered Insurance Professional (C.I.P.), Amanda is passionate about continued education for insurance professionals. Amanda teaches the Insurance Broker Licensing program through Durham College, and speaks about insurance related topics at B2B events.
Leave A Comment
The comments are closed.