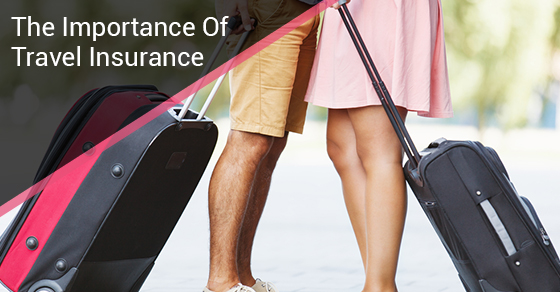 The Importance Of Travel Insurance For Your Next Winter Escape
Planning a winter escape? Before you take off on that tropical vacation, ask yourself this: Are you covered while you're away? If you forget to pack a bottle of sunscreen, you can pick one up when you get to your destination. If you forget travel insurance and you get sick while you're abroad, you will not be able to pick some up on the fly.
In some countries, hospitals will refuse to treat patients who do not have travel insurance. You may have a great health plan at home but when you leave Canadian soil without travel insurance, you could find yourself having to pay exorbitant medical bills if you or a loved one gets sick on your trip.
What Is Travel Insurance?
Insurance, no matter what type, is designed to offer you protection from the unforeseen. You cannot drive a car without insurance. You shouldn't buy or rent a home without insuring the valuable contents (your TV, laptops, jewellery etc.). Travel is no exception. Travel insurance is put in place to cover any losses that can occur while you're abroad. For instance, travel insurance covers lost luggage, flight accident, cancellation due to extreme weather, and medical expenses. Even if you are just going to the United States for a few days, travel insurance is important. You never know what could happen and it's always best to be prepared.
What Type Of Coverage Should You Get?
Many people assume that travel insurance is based on your destination. This is not the case. Travel insurance has nothing to do with where you are going and should include coverage for health issues, life and disability. You may not have a disability or health problems but should anything happen to you or your family while you're away, travel insurance will cover the medical bills.
Pre-existing conditions

If you have a pre-existing medical condition, your insurance broker needs to be aware so that they can create your travel insurance policy accordingly. Some pre-existing conditions are not covered by travel insurance or have certain restrictions imposed on them. Your insurance agent will explain the type of coverage you'll need for your particular condition.

Dental

Not all travel insurance plans offer dental coverage. This may not be necessary, if you do not have a history of dental problems. Conversely, if you do have a history of issues with your teeth, you should ask to have dental coverage in your travel insurance plan. Going to the dentist in a foreign country can be very expensive.

Evacuation

In this case, evacuation refers to medical evacuation and not evacuation due to weather conditions. Should you need emergency medical intervention that requires you to be evacuated back to Canada or to a closer location with better medical care than where you are staying, your policy should cover the costs.

Reparation: Reparation is a big "what if" in this case, since it refers to reparation in case of death. Your policy should cover the preparation and return of your remains back to Canada should anything fatal happen while you're on vacation.
How To Get Travel Insurance
Because travel insurance is a type of insurance, it's best to visit the company that holds your other policies. For example, if you have homeowners or vehicle insurance, ask your broker about adding travel insurance for your next trip. You can also get travel insurance through your work coverage (if you have any), through a travel agent (who uses those anymore?) or from your credit card company. However, if you purchase travel insurance through your credit card company, you have to book all aspects of the trip with that credit card in order to receive coverage.
Travel Advisories And Your Coverage
Although Canadians are considered great tourists (we're polite and friendly), there are certain destinations that we should avoid. Check the Government of Canada's travel advisory page to ensure that the place you are thinking of going is safe. If a travel advisory is issued for your destination and you still take your trip, your insurance will probably be void. Most insurance companies will not insure you if you go somewhere with a travel advisory. If something goes wrong on your trip and you require medical attention, your insurance company will not honour your claim and you'll have to pay out of pocket.
What About The Rest Of Canada?
Travelling from Ontario to Nova Scotia to visit relatives over the holidays does not require you to purchase comprehensive travel insurance. Your Ontario health insurance should be honoured in other provinces. Some provinces do require a small fee to see a doctor (usually around $50) if you have an out-of-province health card, but they will not refuse you treatment and you will not have to pay out-of-pocket if you accrue any medical bills.
Before you leave for your trip, remember that travel insurance is necessary. You can always buy sunscreen when you reach your destination but if you have emergency medical expenses in a foreign country, you'll be spending a lot more than the cost of a bottle of sunblock.
Leave A Comment
The comments are closed.