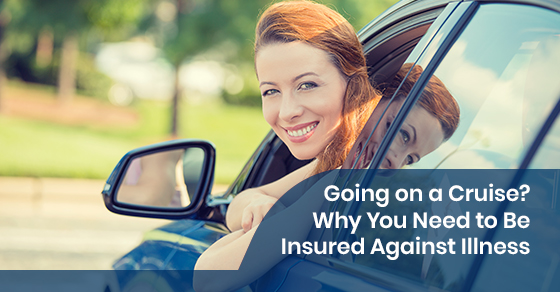 Going on a Cruise? Why You Need to Be Insured Against Illness
There are few things we look forward to more than a vacation. When you work long hours and have busy personal and professional schedules, taking a cruise can be a great way to escape your routine and experience the fun and relaxation that comes from being at sea.
But being on a ship for days on end also presents some fairly substantial risks. All of the food and drinks you consume while on a cruise will be prepared onboard, which means your health is entirely in the hands of the crew who are preparing your meals.
In addition, providing healthcare to hundreds of people at sea is a difficult task, meaning that if something does happen while you're on a cruise, getting access to good healthcare could prove to be more difficult and more costly than you might expect.
Let's take a look at a few of the reasons why cruise insurance is so important, and find out how you can set yourself up for success on the ship.
Tips for Travelling on a Cruise
If you plan on taking a cruise, one of the best things you can do for your health is to do your homework and find out what the cruise ship's medical policies, facilities, and accommodations will be once you're onboard.
Most cruise ships' medical centres aren't set up to handle serious illness or injuries, so find out in advance what your ship can and can't handle.
It's also important to look into the medical centre's hours of operation. Even though all ships that carry more than 250 passengers are required to have an examination room and an intensive care room, the facilities may not be open or available 24 hours a day.
In addition, you may want to inquire as to whether or not the doctor and medical staff on board are fluent in English. While all doctors onboard ships are required to meet high standards for medical practices, there's a chance that they may only speak English as a second language, which could compromise their ability to communicate with English-only speakers—especially in an emergency.
Why You Need to Be Insured Against Illness While Travelling
Unfortunately, there's no way to guarantee that you'll remain healthy on a cruise—even if you pay a premium for a luxury cruise line.
Passengers on Royal Caribbean's Oasis of the Seas ship learned that lesson firsthand in January 2019. Despite being one of the world's most luxurious cruise ships—it even boasts a Tiffany's & Co. store—nearly 600 people onboard fell ill with the norovirus stomach flu, a highly contagious gastrointestinal illness.
Stomach viruses are nasty, and can occur more frequently than we'd like to think, even on high-end cruises like the kind Royal Caribbean provides.
If you contract a virus or develop an illness of any kind while onboard a cruise, you may have to be treated on the ship's onboard medical centre. But if your illness is more serious than that, you may need to check into a hospital at the next port.
Each country's healthcare system is different, and if you don't have medical insurance that covers you against illness while you travel, you could easily find yourself paying for expensive medical services out of pocket while you're abroad.
As CNBC points out, "If something goes wrong in a faraway place, medical help may be difficult to come by, and it could be expensive, too. That's when a comprehensive travel insurance policy can come in handy: It can help you avoid out-of-pocket expenses."
The same CNBC article goes on to note that while medical insurance is a good idea any time you're travelling internationally, on cruise ships it's particularly important: "Cruises hit all the major areas where comprehensive travel insurance is recommended: a big, upfront payment, international travel and higher risk of problems."
Benefits of Medical Insurance While You Travel
The temptation to skip out on travel insurance is obvious: at first glance, it seems like you might save money by opting not to take on added insurance.
But if you should develop an illness while you're travelling, the small upfront investment you make in travel insurance could save you thousands of dollars in fees. Brett Rivkind, a Miami-based maritime lawyer, told Kaiser Health News that "insurance can save very sick passengers hundreds of thousands of dollars."
While some of the major cruise lines offer their own insurance policies, Rivkin also noted that "it's typically a better deal to buy insurance from an independent company than directly from a cruise company."
Wrapping Up
Cruises offer a convenient, cost-effective, and fun way to travel and see multiple countries or locations on a single trip. But it's important to be aware of the risks associated with cruise travel before taking a trip and protect yourself accordingly.
At W.B. White Insurance, we can help you save money on all of your insurance needs. For more information on cruise insurance or any other type of insurance, give us a call at 1-877-727-0757 or contact us here to request a quote.

Tanner started at W.B. White Financial in 2018 after graduating from Concordia University Wisconsin in 2017 With a Bachelor of Science degree in Sport and Entertainment Business and a Minor in Finance. He is a Licensed Life Insurance Broker, Certified Health Specialist, and is well educated within the Life Insurance and Investment departments.
Leave A Comment
The comments are closed.