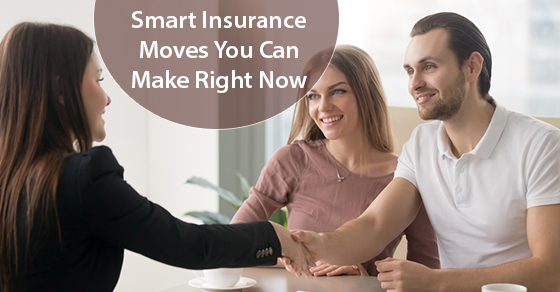 3 Smart Insurance Moves You Can Make Right Now
We all need insurance to cover our liabilities in case something goes wrong and we, or our dependents, are left with an unmanageable bill. Insurance can be a saving grace in the incidence of an auto accident or an unexpected medical event.
Of course, paying for insurance isn't so much fun. Insurance companies are like any other kind of company: looking for ways to make profits here and there, which is why a consumer will question if the services are in the process. If you're a savvy insurance shopper you'll save hundreds, perhaps even thousands, of dollars over the years. And the steps you can take to saving yourself this bundle of money are unbelievably simple.
Increase Your Deductible, Lower Your Premiums
A deductible is insurance terminology for how much money you will have to pay out of your own pocket before your insurer steps in with their coverage. For example, if your home floods and needs new flooring, furniture and circuitry, you may have to pay a thousand dollars while your insurance company pays significantly more to cover the rest.
Low deductibles are an appealing prospect. After all, you won't be faced with a large bill after a stressful event. But the cost of low deductibles is higher premiums. A premium is the regular payments you make to your insurance company to keep your insurance active.
Paying lower premiums and a higher deductible may save you money in the long run. Play around with the amount you're paying on a regular basis and see how much it can be lowered by accepting a higher deductible. Of course, don't accept such a high deductible that you won't be able to pay it when push comes to shove. You don't want to put yourself in a situation where you'll be unable to pay the bill.
Buy through a Broker
Insurance companies compete with each other for business, but most people don't know the correct terms and coverages to compare rates and continue to shop around. You may get a favourable rate at another insurance company, especially if they're offering special discounts or coverages that a tailored to your lifestyle. Just because you've been with one company for several years doesn't mean they're offering you the best value for your money. A good insurance Broker will review your policies to make sure your insurance company had indeed provided their best rate to you.
Many brokers offer a bundled rate if you purchase multiple types of insurance. Check to see if this applies to you. And when comparison shopping, make sure the companies you're looking into are rated highly. You don't want to fall victim to a scam, making an already stressful situation far worse when you try to redeem from a low coverage policy.
Keep Your Credit Score High
Believe it or not, your credit score makes a big difference when it comes to your insurance! Those with excellent credit scores receive insurance rates up to 17% lower than those who have "fair" scores. Those with poor ratings pay up to 67% more for insurance. Paying bills on time, not carrying debt, and having a good track record of financial responsibility makes you less of a liability in the eyes of insurers. You can save money by demonstrating you're good with money in the first place.
Saving on insurance is easy when you simplify just what you need and what you're paying for. Being mindful and organized with your insurance can yield you great savings, ensuring you're well covered and not spending money where you don't need to.
For more information about how to insure yourself the smart way, call WB White Insurance at 877-420-4572 or contact us here.

Amanda began her insurance career in 2000. As a Chartered Insurance Professional (C.I.P.), Amanda is passionate about continued education for insurance professionals. Amanda teaches the Insurance Broker Licensing program through Durham College, and speaks about insurance related topics at B2B events.
Leave A Comment
The comments are closed.