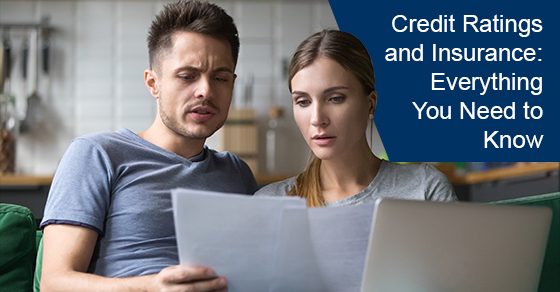 Credit Ratings and Insurance: Everything You Need to Know
Many people go about life without giving much thought to their credit ratings. They might not need to apply for more credit or be prone to using credit cards as often. However, your credit rating is very important when it comes to your finances.
Over time your credit score can change, and you might not even realize it. Although it might not seem important as you aren't dependent on credit right now, in the future, you might plan to buy a car, need a mortgage for a house or require money for renovations.
Another reason your credit score is important is that it affects more than just your credit. It also affects how much you pay for personal insurance. Here's everything you need to know about credit ratings and how and why it can affect your insurance.
What is a credit bureau?
A credit bureau collects and compiles consumer credit information and history using banks, financial institutions, and court records for information such as bankruptcy.
In Canada, the two main credit bureaus are Equifax and TransUnion. They compile credit information to create credit reports which are available for banks and lending institutions who need to check up on applicant credit behaviours.
Do credit bureaus share information?
Unfortunately, they do not. While there are some lenders and creditors that report to both nationwide credit bureaus, others might choose just one. Some lenders and creditors might not report your credit information at all. This makes consistency between the two bureaus challenging.
Each bureau uses a unique scoring model, which can affect your credit score. This can lead to differences between the two bureaus.
What is a credit report?
A credit report evaluates credit risk to assist lending institutions (such as banks) in predicting consumer behaviour. The report allows lenders to look at prospective borrowers and determine the risk associated with them defaulting on their loans or credit card payments.
They apply a credit score to consumers, which ranges from 320 to up to 850. A score over 630 is considered good. 720+ is typically an excellent score. A credit report contains a long list of credit information from missed payments to bad cheques and how many credit cards you have, to your payment habits.
It goes even deeper than that, seeking information from courts to find bankruptcy information, records related to consumer proposals, and even credit inquiries from lenders and other sources.
What is my credit history?
Your credit history is established over time and reflects your habits and behaviours when lent credit by tracking the information listed above. Although many people believe having no credit cards or loans is good for their credit rating, it is the opposite. When you have no credit history, you present a risk to lenders because they have no reference to review your credit habits and past behaviours.
Who can access credit reports?
The credit bureau has rules in place to protect your information. However, there is a list of those who can see your credit report including:
Banks, credit unions and other financial institutions
Credit card companies
Car leasing companies
Retailers
Mobile phone companies
Insurance companies
Governments
Employers
Landlords
The information is reviewed, and often people just check your credit score for a quick overview of your credit.
What are soft and hard credit inquiries?
Whenever a company or agency makes a credit inquiry, it can appear on your credit report. However, only hard hits are reported and counted in your credit score. Hard hits include:
Credit card applications
Mortgage applications
Auto loans
Student loans
Personal loans
These hits are considered negative as it appears you need more credit, so your finances are less stable. Soft hits are not included in calculating your credit score. Soft hits would include:
Your requests
Credit record update requests
Insurance companies asking for a credit report
Why are credit ratings important?
Credit ratings are important because they impact your finances. They are used to determine if you can be trusted with loans by helping finance companies and insurance companies predict the risk of defaulting on a loan.
When an insurance company sees your credit score is low, they tend to raise your rates. Lenders will also raise your interest rates to help cover potential losses if you default on your payments. Poor credit histories also interfere with finding a rental home or can even affect getting hired for work.
As mentioned, not only is poor credit bad, but no credit history can also lead to issues in this area. The longer your credit history, and the higher your rating, the better deals you get on interest rates and insurance.
Why does credit rating impact my insurance rates?
Insurance companies review credit ratings because they consider it an indication of risk. Poor credit can indicate something went wrong with your home, and that you don't have the financial means to maintain the property. This can create a risk of more claims.
Data shows that poor credit is an indicator of financial instability; therefore, a claimant may exaggerate the extent of damage to try to get additional funds from their insurer when a claim is filed.
According to the Insurance Bureau of Canada (IBC), the voluntary Code of Conduct for Insurers' Use of Credit Information is used by 85% of property and auto insurers to determine risk. However, insurers must ask for permission to review your credit report and don't look at credit ratings at face value.
The IBC Code of Conduct prohibits insurance companies from denying or cancelling policies based on poor credit or because you don't have a credit history.
Why is it important to track your credit rating?
There are several reasons to keep track of your credit rating:
It can show signs of identity theft as you can spot accounts you didn't apply for or open
Differences among credit bureaus mean that one might have more or less information and therefore not show a true picture of your credit history
Errors can appear on your credit history, or old information might remain on your credit history that is no longer accurate
Lenders might only receive information from one credit bureau which might provide inaccurate information
Over time information such as a missed payment should disappear from your credit report
As you can see, your credit rating impacts all aspects of your finances, credit and ability to get the best rates for both insurance coverage and loans.
If you would like to learn more about your credit rating and how it affects insurance, call WB White at 1-877-727-0757 or contact us here.

Amanda began her insurance career in 2000. As a Chartered Insurance Professional (C.I.P.), Amanda is passionate about continued education for insurance professionals. Amanda teaches the Insurance Broker Licensing program through Durham College, and speaks about insurance related topics at B2B events.
Leave A Comment
The comments are closed.