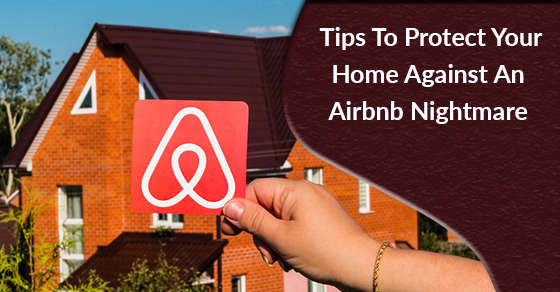 Eight Tips To Protect Your Home Against An Airbnb Nightmare
Airbnb and other popular property rental sites give you the opportunity to rent out your home or cottage to make a few extra bucks when you go away. Furthermore, Airbnb allows you the chance to have someone pay to housesit for you while you go on an extended or short vacation. However, there are bad people out there who will take advantage of your clean home or cottage and turn it into a den of depravity. You've probably heard the stories and seen the news coverage of people taking advantage of Airbnb hosts and destroying their homes, leaving the place in disarray and causing thousands of dollars worth of damages.
To protect yourself against an Airbnb nightmare, follow these eight tips:
Learn the law: Before creating a listing for your property, make sure that you are legally allowed to do so. Your city may have rules you have to follow when it comes to listing on Airbnb. If you do not follow these rules, guests may take advantage of you and trash your place knowing that there's nothing you can do since you've broken city ordinances by renting out your home in the first place.

Remove your valuables: Now that you know if you are legally able to rent your property on Airbnb, remove your valuables. This goes for jewelry, computers, tablets, art, precious family heirlooms, cash – anything that you don't want strangers taking. If you have a hidden safe, you can store your valuables in there, or rent a safety deposit box at your bank. If neither of those is an option, stash your valuables at the home of a friend or family member that you trust.

Get coverage: More and more insurance companies are creating packages that deal with renting out your home on sites like Airbnb. Talk to your provider and sit down with your broker to see what kind of coverage you can get to ensure that you are protected against anything out of the ordinary that happens while you rent out your property on Airbnb.

Create in-depth forms: An online application form will allow you to ask potential guests questions. You can create a PDF version of the form that you can send to guests when they make an inquiry about renting your property. Make sure the application form asks for a copy of the guest's driver's licence (or some form of government ID), credit card number, contact number, address and social media handles (if applicable). If someone is not willing to give up this information, they may have something to hide and are not worth the risk.

Search potential guests online: By typing a name or social media handle into a Google search, you can learn a lot about someone's character. Check out potential guests' social media profiles like LinkedIn, Facebook, Twitter and Instagram. Look for red flags like pictures of messy rooms, excessive partying or drug paraphernalia and comments other people have made about them. If someone has wreaked havoc on another Airbnb property, there should be evidence online.

Charge a damage deposit right away: Once you have deemed that your potential guest is worthy of renting your place (i.e., they've passed the social media and Google test, have provided you with accurate contact information and a valid copy of a government-issued ID), ask them for their credit card number so that you can charge the damage deposit. Reassure them that this is refundable and that the money will only be taken if any damage is incurred on your property. Generally, damage deposits range from $300 to $500. If the potential guest has issues with this, then they may not have enough money to process the payment. If they can't afford the damage deposit, how were they planning on affording the full rental cost? You need renters who are going to pay for the service you're offering. Airbnb is a business and you're not renting out your property for free.

Your gut knows best: Home-sharing can be a scary process, especially since you are basically letting a stranger live in your house while you're not there. If your gut is telling you that the potential guest is no good, then listen to your gut. Trust your instincts, and if someone seems fishy or off, they probably are.

Enlist your neighbours: If your neighbours are game, get them to check in on your property while you're away. They can report back if they notice anything out of the ordinary. If your guests are throwing an out-of-control party and destroying your home, your neighbours will let you know ASAP. They can also call the police.
Airbnb provides a great service for people who are looking to rent out their property for the short or long term. But it's important to protect yourself because unfortunately, Airbnb nightmares happen all too often.
Leave A Comment
The comments are closed.