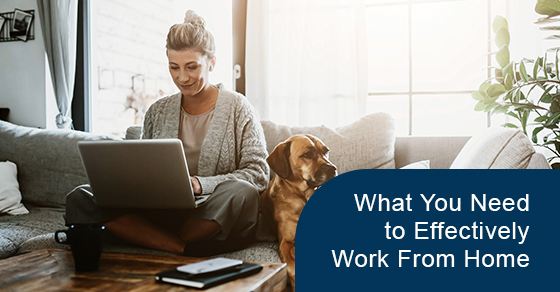 What You Need to Effectively Work From Home
Working from home has become an accepted option for employees worldwide. If you can do your job in an office, you can do it easily from home. Convincing your management that you can do your job effectively and productively is important. To secure remote work, you should ensure you have everything you need. Here are the things you need to succeed.
A Comfortable Workspace
A dedicated workspace ensures you are comfortable and equipped to communicate and concentrate during work hours. Although not everyone can dedicate an entire room as their office, you can find a space in your home suited to a home office.
Ideally, you want to avoid areas with distractions such as a television and ensure you have a suitable surface to accommodate your computer, paperwork, etc. You have to work there with minimal disruption to remain focused and committed to your work.
Comfort is also important. If you are sitting on a barstool hunched over at a small corner of the kitchen island, you won't last long before you need to take a break.
Arrange Hours When You're Most Productive
Often working from home allows you to be more flexible with your work hours. If this is the case, choose hours where you'll be most productive. For example, if you have kids, working the same hours at school or attending extracurricular activities will reduce interruptions. How is the traffic in your home, and when is it the calmest?
You might be better with a later start if you live alone, while others might be early risers. You can also learn to pace yourself and tackle challenging tasks when you feel more alert and focused.
Plan Your Time Wisely
Organizing your day allows you to remain on task. It is far easier to miss deadlines and become less productive if you lack direction. Plan tasks you need to complete, and ensure you stick to the plan. Space your day out to manage your workload, and ensure you remain productive to meet your deadlines. Mark tasks in your schedule so you can keep track of them.
Not working in an office environment where people send cues like meetings makes it easy to miss important calls or group discussions. At the end of each day, review your progress and include anything you missed for the next morning. Take advantage of tasks you complete early and use that time to work in advance when you can.
Stay Connected
Make sure you have a strong connection that allows you to work without interruption. A slow and ineffective internet connection can hamper your productivity. It is also very frustrating and can send the wrong message to your team and management. You have to be fully operational with the tools you need.
You can also discuss the best tools for keeping in touch with your team using apps to instant message each other like Slack and having a reliable teleconferencing tool like Zoom for meetings. Your computer also has to work properly, as should your cell phone.
Stick to a Work Schedule
Flexible hours are great, but they can't be too relaxed. Choose work hours and stick to them, so people know when you are available and when you are off duty. The new Working for Workers bill entitles you to disconnect for downtime.
But if you don't work a regular work schedule, it can be confusing for co-workers and managers to know when you are available. This also ensures you are available for meetings. Choosing the same lunch hour and break times also helps structure your day. You'll avoid burnout while also ensuring people know you are engaged.
Dress for the Occasion
It can be hard to remain focused if you don't follow your usual daily routine. While many sing the praises of working in pyjamas, this can be distracting and interfere with your state of mind. You are used to getting up, taking a shower, brushing your teeth, shaving or putting on makeup, and you mentally associate these actions with work.
It can help if you continue to follow your daily routine so that you are focused. It also avoids feeling like you're "letting yourself go," which can be a little self-defeating and eat away at your self-esteem. Set your alarm and make your way through your daily routine just like you would before heading out to the office. You'll feel better prepared for a productive workday.
Keep Social
Make sure you keep in touch with your co-workers and enjoy some interaction with people. Set up remote lunch dates or breaks, so you don't miss out on the social connections that make work easier.
Working remotely cuts you off from the world, which can wear you down after months of solitary work. If you manage a team, call daily meetings, even if it's just to check in with everyone.
Set Expectations
Both people at home and people you work with might need you to set expectations for your homework setup. For example, let family members know you can't be disturbed during your work hours, and also set boundaries with your employer so they don't infringe on your time. This will avoid misunderstandings and out-and-out conflicts that can make working from home a nightmare.
Insurance
Consider getting liability insurance for home businesses if you are a contract worker. This is important as if an accident occurs that keeps you'll need a safety net. Your home insurance won't cover losses if they discover your issues related to your work. So be sure you have the right coverage.
For more information on business insurance when working from home, speak to our team today.

Amanda began her insurance career in 2000. As a Chartered Insurance Professional (C.I.P.), Amanda is passionate about continued education for insurance professionals. Amanda teaches the Insurance Broker Licensing program through Durham College, and speaks about insurance related topics at B2B events.
Leave A Comment
The comments are closed.