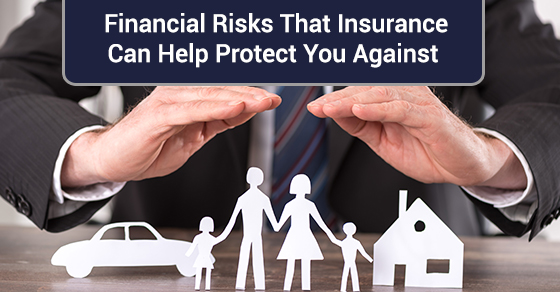 10 Financial Risks That Insurance Can Help Protect You Against
We cannot predict the future. You don't know when someone in your family will fall ill or if someone will accidentally rear end you while you're stuck in traffic. However, financial insurance protects you against the events that can crop up out of nowhere.
Without insurance, you may not be prepared to handle these 10 financial risks:
General health:

We all have different health needs. Some of us require prescription medication to be taken daily, while some of us only need medication when we've come down with a cold or flu. For this reason, health insurance can help cover the costs of prescription medication, chronic illnesses like diabetes monitors and asthma inhalers, and even the little things such as if your children come down with ear infections. The costs of prescription medication and other care items will add up without insurance.

Critical illness:

Getting sick happens without warning – and if you're all of a sudden diagnosed with a critical illness, financial insurance can help protect you against potential monetary risks. You may not be able to work for a few months or have to reduce your hours at the office. With critical illness insurance, you and your family are protected against financial loss. It can also help you pay medical bills, renovate your home (for example, to add a wheelchair ramp), and hire a caregiver/nurse.

Disability:

As with a critical illness, disability insurance can protect you against the risks associated with loss of income. Disability financial insurance entitles you to a monthly benefit that will replace a portion of your income should you not be able to work following an accident. Even if you are expecting to fully recover from the accident, recovery times differ for everyone. Disability insurance can help supplement the costs of your recovery until you are able to to get back to work.

Death in the family:

Life insurance is crucial to anyone who is planning their retirement. Even if you're not planning on retiring anytime soon, you can still benefit from life insurance due to the financial risks it protects you against. If you have an unexpected death in the family, or if you should suddenly pass away, life insurance can cover costs like funeral expenses. Solid life insurance planning can ensure your family can maintain the same standard of living.

Property damages/theft:

Financial insurance is available for your home to protect you against theft and other damages such as flooding, fire and other disasters that can leave your property in shambles. Home insurance can cover the costs of replacing stolen or damaged items and repairs should your property require them following a disaster.

Vehicle protection:

Auto insurance is mandatory in Canada and will protect you in the event you cause injury or damage to others. Additional coverage can be added to cover the cost of repairs if your vehicle is in a collision or if something unexpected happens, like if a tree branch falls on your car, or windshield is cracked.

Keep your employees from quitting:

If you run a business, no matter the size, you should give your employees benefits. By offering your employees benefit packages that feature everything from health insurance to dental, you are giving them an incentive to stay with your company. Employees who are given benefits are more likely to remain loyal to a company than those that have to pay out-of-pocket for their own insurance.

Liability:

If someone injures themselves at your home, they can sue you for negligence. With liability insurance in place, you are protected for the costs to defend the lawsuit and damages awarded against you. The same goes for your workplace. If you own a company, liability insurance ensures that you will not be held financially responsible for damage or injury you or your product accidentally caused to a customer. Liability insurance can be tailored to your workspace.

Travel:

When you travel, there is a chance that something can go wrong. Flights can be delayed,trips can end early due to storms, and hospital stays in other countries can be very expensive should you fall ill abroad. Travel insurance protects you against the risks associated with travelling so you don't have to pay out-of-pocket if something happens to you while you're away.

Your financial future:

When you invest in products like tax-free savings accounts, RRSPs and RESP plans, your money is secure and protected by government institutions. Interest is earned at safe but gradual rate. Other investment options, such as stocks and mutual funds, allow you to assume more risk for the chance at a greater return on your money. Our financial advisors can help you choose your level of investment risk tolerance.

Please contact WB White Insurance for more information about our financial insurance packages. Life is full of risks but the more you protect yourself, the better off you'll be.
Leave A Comment
The comments are closed.