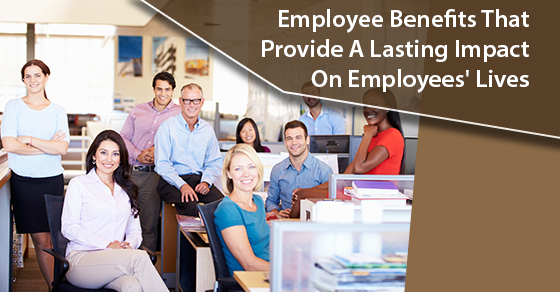 10 Employee Benefits That Provide a Lasting Impact on Employees' Lives
Nowadays, paychecks are no longer the main factor for most employees. Instead, the decision to stay at their current places of work depends on the benefits provided. Unlike before, employees are looking for compensation that helps them stay healthy and gives them a healthy balance. In fact, according to recent research, 79% of employees prefer additional benefits instead of an increase in salary. Another study indicates that benefits can help to significantly reduce employee turnover.
Providing benefits can increase employee loyalty.
Lack of benefits can negatively impact employees' productivity. Most employees are worried about their personal lives, finances, and other life stresses. One survey found that 23% of employees become less productive at work due to financial worries.
Flexible working benefits are also likely to make an employee show up to work regularly, helping to minimize absenteeism at work.
Below are top ten employee benefits that can significantly improve your workforce
Health Care and Personal Welfare

Companies are increasingly offering employees healthcare benefits such as medical and mental health insurance, among others.

 Preventive Wellness Benefits

Most companies are decreasing health care expenses on their employees and providing preventive health and wellness programs instead. Some of these programs include premium discounts for not using specific products such as tobacco and for participating in health risk assessments. Other companies are providing bonuses and other incentives for taking part in wellness programs.

 Retirements and Saving Planning

Today, employees are as concerned with retirement saving and planning benefits as ever. More employees are taking advantage of the various saving plans that are offered by their employer. These plans have a unique set of rules that determine the amount of taxable income in the retirement plan. Some of the common retirement plans include Individual Retirement Arrangement (IRA) and Simplified Employee Pension (SEP). Most employees believe that retirement benefits and saving plans ensure a better future for them even after leaving their current workplaces.

 Leave Benefits

Leave benefits are increasingly becoming popular in most places of work. Traditionally, sick leave has been recognized by many organizations as a benefit, and in some jurisdictions, sick leave is mandatorily identified as benefits. On the other hand, personal leave is treated differently. Although some organizations are not treating personal time-off as a benefit, it can negatively influence employees' productivity.

 Flexible Schedules

Most employees prefer a work schedule that is flexible. In the past, the work schedule was tight, and employees were required to work on a strict schedule. However, younger employees are looking for an employment schedule that is flexible to have more social and family time outside work. Some of the common flexible time benefits include flexible days, work at home options, and flexible shifts. This helps employees become more productive while maintaining an adequate work balance.

 Career Development

Although career development programs have been decreasing in the past, they are still essential benefits to employees. Career development programs are important to employees in many ways. First, they help retain employees who may want to develop their careers by going elsewhere. Secondly, many employees expect to find meaning in what they do instead of unending tasks. Career development programs make employees feel engaged and supported, increasing their productivity. Finally, these programs can help to fill skills and competency gaps in the organization.

 Business Travel Benefits

In the past, business travel was considered unnecessary and a waste of time. However, due to globalization, business travel has become inevitable. Travel is an essential factor when applying for job opportunities. Employees want to be reimbursed for travel expenses such as air tickets, taxi fare, and hotel bookings while they are on assignments. According to a recent survey, business travel benefits can help individuals progress in their careers.

 Relocation Benefits

Relocation benefits are essential when moving from another location. When an applicant from a different place has all the right qualifications, the company should develop a relocation plan that ensures a smooth transition. Conversely, an organization that has decided to move its offices to a new location should provide employees with an adequate relocation plan. Relocation benefits are highly valued by employees willing to change their residences for their job.

 Compensation Bonuses

Compensation is the pay an employee receives for the services rendered. Apart from the standard forms of compensation such as wages and salaries, employees are looking for other benefits such as incentive bonuses. These benefits can be used in attracting top-level candidates.

 Employee-Focused Community Programs

Even though most companies are offering fewer community programs, they are still coveted by the current generation. These programs can include club memberships, social clubs, or sporting events that promote employee-community engagement.
Although employee benefits may be costly, the overall advantages outweigh the cost and significantly contribute to the success of the organization. These benefits also increase employees' morale and productivity. Most executives have indicated that benefits and paid off time provide a significant return on investment in the long run.
To learn more about employee benefits, please call W.B White Insurance at 1-877-727-0757 or contact us here.
Leave A Comment
The comments are closed.