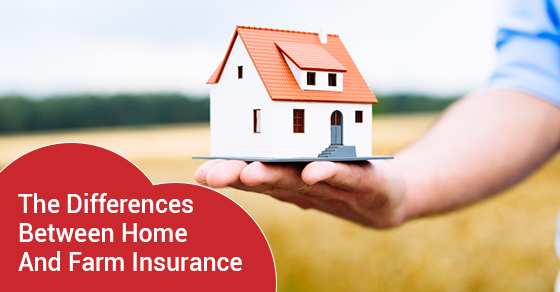 Home Insurance Vs. Farm Insurance: What's The Difference?
In ensuring the optimal coverage for your property, it's critical that you have a clear understanding on all the available options. This is especially important for those considering insurance for their farm property. Oftentimes, home insurance policies don't offer the requisite level of coverage unique to a farm property. And so within this latest post, we'll explain more on farm insurance, as well as the differences between home insurance and farm insurance policies.
What Is Homeowner's Insurance?
Homeowner's insurance policies are designed to cover a dwelling, household contents, and detached structures on your property for personal use. Homeowners are generally covered against issues such as burglary and fire, as well as natural disasters such as lightning. Most policies will also cover the homeowner in the event that an accident occurs on their property. For an example, a homeowner is generally covered in cases of trips and falls that result in an injury.
What Is Farm Insurance?
Farm insurance is a product designed specifically to cover ranches and farms. It's similar to a homeowner's insurance policy in that it covers damage to the dwelling and any items within. However, the leading farm insurance products will also include a level of commercial liability insurance designed to protect the farmer's commercial activities. This means that, as part of their farm insurance policy, farmers can also cover items designed for use as part of their business, such as silos, fencing, and barns. They may also choose to extend their coverage to protect their high-value equipment such as tractors, insure livestock, and provide liability coverage to property that has been leased for farm use.
Why Choose Farm Insurance?
Farming is not just a business, it's a way of life. By choosing the right farm insurance program, farmers can mitigate the potential cost from unforeseen disasters or legal claims against their business.
Questions to Consider in Choosing Farm Insurance
With so many farm insurance products from which to select, it's imperative farmers have a clear understanding on the options available. Let's look at some of the questions to consider when reviewing farm insurance options.
Does the company offer full coverage for my farm?Farms are often unique businesses in which farmers use various types of equipment to run their options. This means that each farm is different in terms of its liabilities and its coverage requirements. Farmers must make sure that the insurance product selected can cover all elements on their particular farm. The process can be only improved by having an insurance specialist review the property directly to highlight unique liability issues.
How much experience does the company have in farm insurance?As farm insurance is a unique product that must be managed effectively to ensure optimal coverage for the farm owner, it's important that the insurance company has experience working with farm insurance products. Discuss the company's experience with their representatives and make sure they offer the level of quality expected to protect all farm assets over the long term.
What factors influence my rates?In managing their coverage, farmers should gain a clear understanding on the factors that influence their rates. Factors to be considered are the location(s) of the farm, the type of agri-business the farmer is engaged in, and the quality and condition of the building and equipment. Farmers should also discuss with their insurance company any changes in their operation, livestock or equipment. This will ensure that the farm owners investments in their business are protected under their farm policy.
How often should I change my policy?Commercial farm needs change quickly and it's imperative that farmers have policies with built-in flexibility. There are, however, time limitations on coverage for newly acquired equipment and livestock. It is important to contact your insurance broker as quickly as possible to advise of any changes. The farm owner should always take time to carefully review their policy at renewal. Most renewals are issued 30-45 days in advance to allow for the opportunity to review the policy and discuss any necessary changes with their insurance agent.
Our trusted insurance experts are farmers too! This allows our team to provide farm owners with the highest levels of coverage for their farm business, its activities and its equipment. We're available around the clock to respond to questions and to help farmers begin the insurance product selection process. To learn more on our products, call us today!

Dan began his insurance career in 2016, however, he is lifetime dairy farmer. Born and raised on a dairy farm, Dan understands the unique challenges of the agriculture industry. Dan incorporates his technical knowledge of insurance to deliver practical advice and suggestions.
Leave A Comment
The comments are closed.