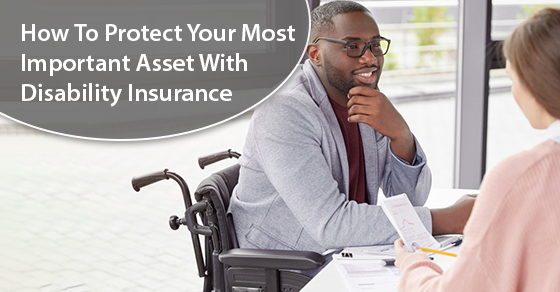 How To Protect Your Most Important Asset with Disability Insurance
Many individuals focus on life and property when they consider purchasing insurance. They often purchase sophisticated insurance policies that offer large cash payouts in the case of an emergency. Even those individuals who view themselves as prepared and prudent in the field of insurance often do not spend time considering the potentials of disability insurance. However, millions of Canadians could definitely use the benefits and peace-of-mind provided by this type of insurance.
How Disability Insurance Works
Disability insurance works the same way as any other form of insurance. With property insurance, individuals pay a small amount of money every month in order to prepare for the possibility of a qualifying event. If that event occurs, they will be able to pay a deductible in exchange for a significant amount of money to cover the damages or the loss of their property. Disability insurance simply views an individual's body as their most important asset. A person's body and brain can be worth many times more than their house or their car.
As a result, insurance for possible disabilities involves the payments of small amounts of money over time in order to cover for any significant claim. The process of acquiring this insurance is the same as procuring other forms of insurance as well. An insurance broker performs an actuarial analysis in order to determine if an individual qualifies and what their payments will be. The broker looks at the safety of an individual's profession and hobbies and their overall health. Heavier, less healthy individuals may be more prone to the kinds of crippling diseases and injuries that cause most disability claims. Using this information, the broker sets up a policy contract that involves obligations and exemptions for the policy.
Once the individual qualifies, he or she begins to pay relevant payments. If they are disabled, they are usually provided with a certain sum of money for an extended period of time. This payment may be a percentage of their previous income and may cover other aspects of being disabled. The extended nature of the insurance for possible disability claims makes the system more complex than those for simple property replacement.
Why do You Need Disability Insurance?
Insurance that covers disabilities is important for a number of different reasons. First of all, there is the ever-present chance of disability at work. A number of professions put employees at risk of debilitating injuries on a daily basis. There are jobs that involve the operation of heavy machinery and lifting massive objects. Logging, for example, is a job where individuals are within several feet of massive saws or falling trees at all hours of the day. Workers in steel mills often come into contact with molten containers of slag. These fields have large numbers of accidents every year that keep individuals from performing their jobs. Just a split-second decision could lead to an injury that maims an individual for a lifetime.
However, insurance for possible disabilities can also come from more mundane activities. Individuals can have back pain and develop carpal tunnel syndrome from their jobs. Slips and falls are surprisingly common throughout Canada on retail job sites. Workers may also face a number of different injuries outside of work. Individuals might slip and fall on hikes or get into car accidents. Some of the costs of these events can be covered by other forms of insurance and potential lawsuits, However, all of these events may still lead individuals to require insurance for disabilities, should they incur any.
Not having insurance for possible disabilities can leave an individual destitute. Government payments will only cover so many of their bills. Their family members may have to go back to work at an old age, and the injured individual may even have to go back to work at a job that can accommodate their injury. Some disabilities require updates to be made to a home in order to allow an individual to move freely and live more easily. Those updates are often covered by insurance for possible disabilities but are not covered by other forms of health insurance.
For more information about disability insurance, call WB White Financial at 877-420-4572 or contact us here.
Leave A Comment
The comments are closed.