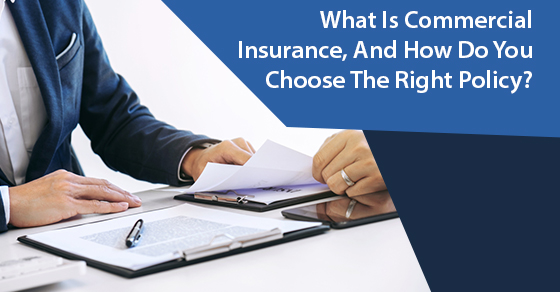 What is Commercial Insurance, and How Do You Choose the Right Policy?
Starting a business means taking on a lot of responsibility, and commercial can help protect you against some of the liabilities you will incur. Not quite sure how commercial insurance works, and how it can protect you? Fortunately, we've put together a guide that has everything you need to know about commercial insurance, and how to choose a policy that's right for you.
What Is Commercial Insurance?
Commercial or business insurance protects you against a number of the liabilities, damages and lawsuits that might arise as a result of conducting your business. Insurance is about properly balancing your risk management.
There are many sub-categories of business insurance, so you should do a careful assessment of your business needs. Some categories may be more beneficial for certain industries. Here are the primary functions of a good business insurance policy:
Workers Compensation (Employers Liability)
Business Interruption
Public Liability (Premises)
Product Liability
The primary goal of business insurance is to provide you with a safety net against unforeseen dangers. Insurance might be the best way to keep your operations going while you deal with various issues that you can experience as a business owner. Here's a breakdown of what each category covers:
Workers Compensation
If an employee is injured on the job, then you might be liable for his or her injuries. Business insurance can help with workers compensation claims, and reduce the financial burden on owners.
Business Interruption
A disaster could damage your primary machinery, or force the closing of a retail location, creating an interruption in your ability to operate your business. Recovering from a disaster can take months or longer causing a financial strain your your business. Business interruption insurance can bridge that gap and cover the loss of of income after you have suffered a claim.
Public Liability
Your company might rent or own an office, building or warehouse. You are responsible for the safety of anyone who is on your premises including employees, vendors or customers. Commercial insurance covers a number of common problems that business owners face.
Slip and fall liability protects your premises from lawsuits. If your janitor leaves a puddle on the floor and a vendor slips, falls and hurts himself, you are liable. Don't let a workplace accident destroy what you worked so hard to build.
You can also get coverage for employee crimes, such as embezzlement, dishonesty, money orders and securities. Your employees at work might have been given the authority to act in your name. Business insurance protects you when they commit crimes while working for you.
Your property will also be protected against burglary, accidents and weather damage. If tree branches break your windows, then business insurance will cover the damage.
Product Liability
When you design, manufacture or sell a product, there is the assumption that it will perform as advertised. If someone is harmed or injured while using your product, a lawsuit might be filed claiming that your product was defective. Product liability insurance will pay your legal and court fees, should you be sued.
Now that you know what commercial insurance can offer you, you're probably wondering what to expect once you begin shopping around for a policy. Here's a breakdown of the process that most insurance companies will follow when providing commercial insurance.
What Will Insurance Companies Check?
The insurance company might check anything from the legal name of the entity, ownership, machinery, products or services, years of operation, warehouses, nature of the operation, buildings, construction materials, square footage, fire protection and your security system. Each general category might lead to more specific questions, like whether or not you have a sprinkler, or where the nearest fire hydrant is. Security questions also might look at whether you have a burglar alarm, security fence or security guards.
Do you have a safe and if so, how much is the maximum amount that it contains? What mortgages do you have? The insurance company will try to make a risk assessment of your business.
Your claims history for the past five years might also be reviewed. Have you made any claims? If so, what were the descriptions, dates and amounts of said claims?
Equipment & Machinery
Is there one particular essential piece of equipment or machinery that you cannot do without? The insurance company will look at specific equipment and machinery with your property and assess its age and condition.
The insurance company will make a list of important property to be covered by the policy. This will include the aforementioned equipment, as well as some of the following: office contents, EDP Equipment, EDP Data Media, customer goods, laptops, stocks, bonds and vehicles. A monetary coverage limit will be set for each.
You can also specifically name equipment and add coverage to increase the limit. Optional coverage policies might include flood or earthquake insurance.
How Do You Choose the Right Policy?
If you have realized that business insurance is a necessity, then how do you choose the right insurance policy? You should first look at the needs of your business. Questions you should ask yourself include:
Are you a startup, independent contractor or a well-established company? How many employees do you have? What are the three primary lawsuits filed against businesses in your industry? How long would it take to replace your primary equipment or machinery, if it broke down? What are the most common risks to businesses such as your own?
Once you have the answer to these questions, finding a policy that suits your needs shouldn't be hard. Insurance is about balancing risk. Therefore, you should determine your own risk tolerance when deciding which deductible is right for you. You will also need to find a monthly premium that fits your budget.
Comparing two or three different insurance company policies with one another might be the best plan. You will see the going rate for premiums and coverage, and find the one that covers the most things that you care about in their standard package.
Protect all that you have worked so hard to build, by finding the right insurance policy. For more information about how to choose the right commercial insurance policy, call WB White Insurance at 877-420-4572 or contact us here.

Derek began his insurance career in 2006. He is actively involved in various Not For Profit community programs in Durham Region. Derek's hands on experience has made him an expert advisor in Director and Officers Liability and Professional Liability. Derek is also a contributor to Imagine Canada's Insurance and Non-Profit Resource Centre.
Leave A Comment
The comments are closed.