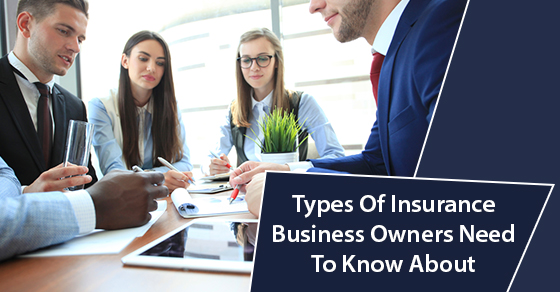 Types Of Insurance Business Owners Need to Know About
Insurance can seem like a never-ending hassle to a business owner. You're already so laden with different types of mandatory insurance just to get your business started, and now there's more?
Insurance is here to help you, not give you a headache. Doing a little homework now can save you tons of time and money in the event of an accident or other misfortune.
There are many types of insurance that you may have never heard of but are invaluable to business owners. In order to properly protect yourself and your business, take note of these types of insurance — they could save you a lot of headache in the future.
Key Person Insurance
Key person insurance is just as it sounds: life insurance for the key actor in a business. This is most often the owner or founder but could entail a manager or a key employee. Without these people, the business would be unable to function properly day to day.
In some industries, personnel are critical to making profits, such as a sales-oriented company. Key person insurance ensures you're safe in the event you lose the person who acts as a pillar to the business.
Disability Income and Life Insurance
Part of supporting employees means providing for them when an illness or injury effectively disables them. But what if the same happens to you, the business owner?
When you're a business owner, not being able to work means no income, and no way to repay small business loans. Having some type of disability insurance is critical to stay afloat when you need to take time to care for yourself.
Employment Practices Liability Insurance
Employment is tricky; hiring, firing and everything in between, you don't want to be liable if things go awry. The most common instances of employment liability are wrongful termination, discrimination and sexual harassment. Employment practices liability insurance protects your business from being sunk by legal action, whether deserved or not.
Business Interruption Insurance
After an unexpected event requiring a business to close, business interruption insurance allows the business owner to collect income they would have otherwise expected to generate. For example, business owners can do nothing to prevent hurricanes but are put out of business all the same if one devastates their area. Business interruption insurance bridges the money gap between disaster and recovery.
Data Breach Insurance
Data breaches are a real threat to businesses of any size. There are many costs incurred when a malicious party breaches your framework, including identity theft and credit fraud. The cost of poor PR following the breach, civil litigation and repairing the breach could sideline a business. Data breach insurance covers these costs and assists a business in getting back on their feet.
Did you know there were so many types of insurance to consider as a small business owner? The more you know, the better you can prepare and look after those who depend on you. The nature of being a business owner means that you're accepting a great deal of risk in even operating, a fact which business owners are constantly aware of. Proper insurance coverage can mitigate some of this stress and allow you to run your business with confidence and success.
For more information about saving for retirement, call WB White Insurance at 877-420-4572 or contact us here.
Leave A Comment
The comments are closed.