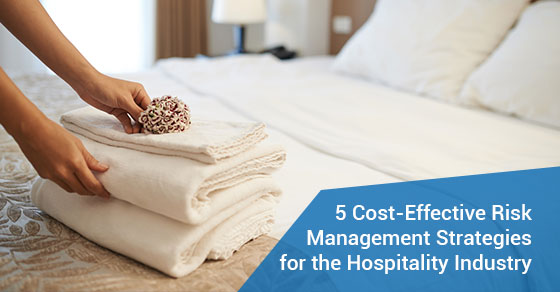 5 Cost-Effective Risk Management Strategies for the Hospitality Industry
High-pressure, hotel and restaurant owners have one of the most fulfilling jobs. At the heart of concept or fusion dining, tailored guided tours, and cozy, home-away-from-home hotel suites are dedicated, hospitality providers. They work hard to craft memorable experiences for each guest. But even this rewarding business venture is an investment just as much as its a risk.
Risk management is a business practice that challenges owners and investors. They have to think ahead to mitigate financial loss, property damage and both guest and employee injury. Risk management creates proactive and innovative strategies to prevent losses from coming up.
Results include creating an award-winning customer experience to more profits and cheaper insurance. There's no wonder that the most successful businesses are looking at future trends to change the way they do business.
Juggling a full day of trying new recipes and tracking down luxurious thread counts? Don't let kitchen fires, trashed rooms, and typhoon-ravaged trails slow you down. Find out how you can grow your business and redefine customer experience, but without the risks. You'll be able to see the impact of healthy, sustainable operations on your hospitality insurance rates.
Get the Right Training
Staff training is the backbone of customer experience. No matter how many hot stone massages, stunning views, and mouth-watering bites you can offer, if they're not served quickly and with a smile, they won't be completely satisfied. You could be walking more customers out the door than welcoming them in.
Work safety training is the most important aspect of hospitality training next to customer service. This helps to prevent crippling losses from disasters, injuries, and property damage. It will also help to keep your hospitality insurance low. Work safety training should include:
Equipment Handling and Heavy Lifting
From kitchen fires to slip-and-falls, hospitality workers need proper safety training to limit their exposure to occupational hazards. They must learn how to prevent work-related injuries that may also affect guests and impact their experience. For example, make sure that chefs and cooks know how to store knives and wear proper heat-protection gear.
Safety Procedures
Teach staff the right responses for emergencies, such as a fire or robbery. Proper handling and storage of food and drinks to avoid spoilage and meet hygiene requirements also included.
Alcohol Service
Fancy drinks and signature cocktails are often part of the most memorable menus. However, establishments serving alcohol can be liable for incidents involving intoxicated guests. Aside from acquiring the right license, make sure that bar staff have alcohol service training. This helps a lot with being able to detect and handle intoxicated patrons.
Go Digital
It sounds cliche, but technology is everywhere. Core business processes, such as point-of-sale systems and guest databases are becoming standard. But with the efficiency derived from automating such processes comes with cyber liability. Keep crucial information secure using security cameras, database access controls, anti-virus software, and password protection for a staff-only WiFi network.
Taking these cyber-security precautions as you do business in the digital age protects your enterprise from threats to information security. It also reduces your overall risk, resulting in cost-effective hospitality and cyber liability insurance rates.
Maintaining Facilities
Older buildings and outdated facility designs increase the risk of property damage. These also increase the risk of life-threatening injuries to both guests and staff. The good news is, rectifying these situations don't always have to resort to a full shutdown for extensive and costly renovations. The right hospitality insurance coverage and small improvements can go a long way in preventing extensive damage and repairs:
Clean the Kitchen
Aside from optimal food safety standards, a clean kitchen reduces the risk of grease fires and the resulting staff injuries. To do this, make sure that ovens and stoves are properly cleaned, knives are properly stored, and spills are routinely mopped up.
Declutter
Keeping walkways clear to avoid eyesores that leave guests with the wrong impression. It also helps to avoid common trip-and-falls. Keep an eye out for cluttered walkways, entrances, and exits to create a better customer experience. In worst-case scenarios, a fast and effective emergency evacuation should be thoroughly planned.
Secure Railings
Guests hold railings for balance or lean against them to admire the views from the balcony, even when it's advised against. The fact is, there's no stopping them, so the best thing to do is to shore up railings to make sure that they are secure and prevent deadly falls.
Weatherproof
Canadian establishments know that business doesn't stop in the winter. For resorts and hotels, the cold months even draw in more guests eager to take part in seasonal offers.
Keeping your business open requires regularly shovelling and salting walkways and parking lots. This is done in order to prevent falls and reduce your risk for medical and legal liability, as well as poor customer experience.
Equipment Maintenance
Hotels, restaurants, and resorts count on various equipment to deliver a memorable customer experience year-round. All of this essential equipment requires routine maintenance to ensure it works properly. It's also vital to ensure that the equipment adheres to health and safety codes.
Refrigerators and freezers
Malfunctioning cooling units cause disastrous results for food storage, often leading to waste. Sometimes this food can even end up being served to guests who end up falling ill. Regular maintenance reduces financial and operational risk for hospitality providers. Starting with reliable food safety measures.
AC and Heaters
Malfunctioning heating and cooling units are the biggest fire hazards in hospitality establishments. These hazards can be easily prevented with routine maintenance and periodic evaluation. This helps to determine if a system upgrade is required since older heating and cooling units are usually the cause of malfunctions.
Obtain Proper Licenses
Every business requires a license to operate, and for the hospitality industry, that involves different kinds of licenses. Ranging from businesses to food-services, liquor licenses, and even commercial driver's licenses. Securing all these licenses help to ensure smooth operations. More importantly, they will enable you to receive the right hospitality insurance coverage.
It's vital that before you even begin planning your hospitality service that you acquire all of the necessary licenses. This will help ensure that from the beginning you are following the guidelines of operating under this license.
To learn more about risk-management for hospitality businesses, call W.B. White at 877-420-4572 or contact us here.

Derek began his insurance career in 2006. He is actively involved in various Not For Profit community programs in Durham Region. Derek's hands on experience has made him an expert advisor in Director and Officers Liability and Professional Liability. Derek is also a contributor to Imagine Canada's Insurance and Non-Profit Resource Centre.
Leave A Comment
The comments are closed.