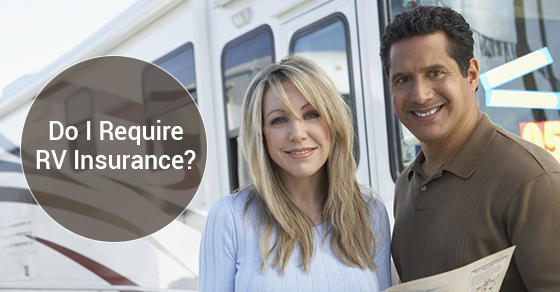 When Is RV Insurance Required?
An RV can provide you and your family with an unparalleled travelling experience. It's the ultimate vehicle for exploring our great country and seeing the countless captivating sights of Canada. But to protect your investment, ensure you're achieving the optimal level of security for your vehicle and your family. That's why it's important for you to consider RV insurance options. In this latest post, we'll explore RV insurance and explain when and why it's required.
Your RV Insurance Requirements
To prevent coverage gaps and ensure you're not held completely liable for accidents that arise when using your RV, it's important to understand when RV insurance is required. In the following circumstances, you must purchase insurance for your RV:
When your RV is rented
When your RV is financed
When you're using your RV as a motor home
Motor homes must have some form of liability insurance when they're driven on roads. Financed vehicles are required to have All Risk Comprehensive RV insurance coverage. That's because there is a legal obligation to the lender. The lender will require full reimbursement for the cost of the vehicle in the event that your RV is damaged by an incident or accident. Protect yourself will full coverage on your RV.
If you rent an RV, you may assume legal responsibility for loss or damages caused to the rental while in your care. Your automobile insurance policy may not extend coverage to your rental. Before signing the rental paperwork, you should call your auto insurance firm and discuss whether their policies cover you in case of an incident involving your rented vehicle.
Is RV Insurance Optional?
There are also many cases in which you have the option to accept or decline Comprehensive coverage for your RV. This is the case in the following circumstances:
The RV is only towable and not driveable
You own the RV outright
If you own a towable RV such as a fifth wheel, a travel trailer, or a pop-up vehicle, then liability levels are extended while they are attached to an insured vehicle. This means you may not be required to arrange additional liability insurance . However, once your RV is unattached from the vehicle, the liability protection provided by the automobile insurance will no longer respond. If the vehicle is classified as a motorhome, automobile liability insurance is always a minimum requirement.
Those that have paid off their vehicle in full are considered to have complete ownership over their RV. Therefore, they can pick and choose an insurance product to cover their recreational vehicle.
If you have paid off your recreational vehicle, consider the benefits of full coverage for your RV to protect your investment. For example, you might have just spent $25,000 cash on your new travel trailer. If a fire occurs, or the unit is stolen, you'll have no recourse to recover your investment if you choose to go without insurance. Insurance protection is a prudent mechanism for protecting you against significant financial loss.
The Reasons You Need RV Insurance
When considering your full range of coverage options, it's important to review the perils that could damage or destroy your recreational vehicle. RV insurance can help to cover you against the following:
Vehicle theft
Instances of vehicle theft are on the rise across the country. Even the best vehicle security isn't always enough to protect you. Make sure you have a comprehensive and versatile insurance policy in place.
Vehicle damage
Your vehicle can become damaged by driving on poorly constructed roads or from a falling tree at a camp site. For the avid traveller, gaining protection against the costs of vehicle damage can help save thousands of dollars. You may also qualify emergency roadside assistance to tow your vehicle to a repair facility or travel assistance for emergency accommodations.
Accidents
Whether a change in weather conditions or a an unexpected shift in traffic, an accident can happen in a split second. Without having extensive coverage, you can be held liable for medical costs, vehicle repair costs and other expenditures in the event of an accident. Safeguard your vehicle and your financial future by reviewing the available policy options.
Our trusted team at WB White Insurance is now offering access to comprehensive insurance programs for RV owners. To learn more on the various product options and your obligations as an RV owner, speak to our insurance experts directly!
Leave A Comment
The comments are closed.